19 May 2015
Aixtron wins multiple tool order for AIX R6 volume production MOCVD system
Deposition equipment maker Aixtron SE of Herzogenrath, near Aachen, Germany, has received a multiple tool order for its AIX R6 MOCVD system, which was launched in November 2014. Aixtron did not disclose details of the customer or for what applications the customer would use the systems for.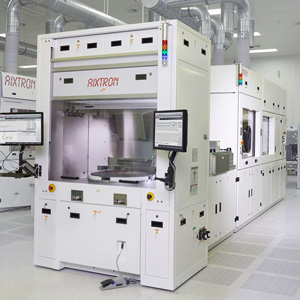 Picture: Aixtron's AIX R6 MOCVD system.
The customer's decision to purchase the AIX R6 Close Coupled Showerhead system for volume production is based on positive experience with Aixtron's Close Coupled Showerhead R&D tool, says Aixtron. Providing high throughput by continuous runs and low cost of ownership, the AIX R6 enables customers to expand production efficiently.
Dr. Bernd Schulte, executive vice president and COO of Aixtron SE, says: "The AIX R6 has been developed with a strong focus on customer production needs and therefore, excels through outstanding material efficiency and intrinsic deposition uniformity. In addition to cost advantages, the AIX R6 also convinces with more automation, increased reliability and improved process control for excellent reproducibility and yield. Thus, the AIX R6 effectively contributes to our customers' business success."
Visit: www.aixtron.com