21 May 2015
Avago launches first highly integrated LNA-filter module enabling coexistence of SDARS car radio signals with cellular, WiFi, Bluetooth and GPS
Avago Technologies Ltd (a supplier of III-V-based analog interface components for wireless, wireline, storage and industrial applications) has launched the ALM-2203 miniature highly integrated low-noise amplifier (LNA)-filter RFIC module, targeting Satellite Digital Audio Radio Service (SDARS) car radio systems. The module is designed to enable SDARS signal to coexist with cellular, WiFi, Bluetooth and GPS signals commonly present in today's automobiles.
There is an increasing number of RF antennas and radio systems in new cars enabling advanced safety features and media-rich infotainment. Furthermore, personal wireless devices such as smartphones and tablets have become an integral part of modern day in-car experience for drivers as well as passengers. The car can be an environment crowded with many different types of wireless signals that could cause an RF interference disrupting desired signal reception. As such, says Avago, it is difficult for a small-signal type such as SDARS to operate in the presence of nearby large signals like 4G/LTE and WiFi. Leveraging Avago's unique pseudomorphic high-electron-mobility transistor (pHEMT) LNA and FBAR filter technologies and provided in a compact and fully matched 5mm x 5mm package, the ALM-2203 is claimed to be the first highly integrated LNA-filter module that addresses SDARS wireless coexistence challenges while meeting the miniature footprint requirement for modern shark-fin type antennas.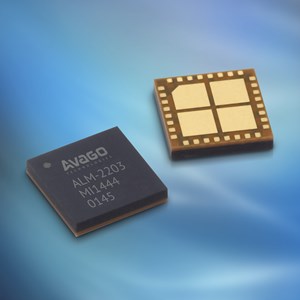 Picture: Avago's LNA-filter RFIC for SDARS car radio systems.
At the IMS 2015 exhibition in Phoenix, Arizona (19-21 May), Avago gave a live demonstration of the ALM-2203's out-of-band (OOB) P1dB performance, showing robust coexistence of the SDARS RF output signal in the presence of strong jamming signals from 1710 to 2600MHz.
"As new cars are increasingly equipped with SDARS, the need for a miniature SDARS LNA-filter RFIC with good OOB P1dB performance is imperative for today's car multi-band, multi-standard wireless environment," says Ron Ruebusch, senior VP & general manager of Avago's Wireless Semiconductor Division. "The introduction of the ALM-2203 further expands Avago's product footprint in the growing automotive wireless market."
Avago is ramping up production of its ALM-2203 to support a major automotive company. General availability is scheduled for early 2016. Small quantities of the ALM-2203 are available now for sampling to support design and evaluation.

Visit: www.avagotech.com/pages/en/rf_microwave/amplifiers/