26 May 2015
Cardiff University recruits UCLA's Huffaker to lead new research lab
With support from the Welsh Government's £50m Sêr Cymru program (which provides finance to bring leading research with commercial potential and research teams to Wales), Cardiff University has recruited professor Diana Huffaker, currently at the University of California, Los Angeles (UCLA), as Chair in Advanced Engineering and Materials. She will lead a new research laboratory that has the aim of turning the city into a global hub for compound semiconductor research and exploitation.
Specifically, Huffaker will establish a research lab with a focus on fundamental science and device development, building on existing strengths at Cardiff University in expanding areas of optoelectronics, semiconductor devices and materials. The lab will explore novel growth methods and material combinations that industry cannot necessarily accommodate, and will form part of the Compound Semiconductor Research Foundation - a joint venture between Cardiff University and Cardiff-based epiwafer foundry and substrate maker IQE plc. In March, Cardiff University was awarded £17.3m by the UK Government to underpin the development of the foundation (the first of its kind in the UK) as compound semiconductors represent one of the eight technologies identified by the UK government as essential to leading the country's economic and industrial growth.
Huffaker's research focuses on the development of unique materials that aim to enable the production of new devices with new functionality. She is best known for her work developing quantum dot materials used in optoelectronics and laser physics. Graduate students from her California lab recently formed a spin-off company to commercialize research into high-sensitivity electronic receivers.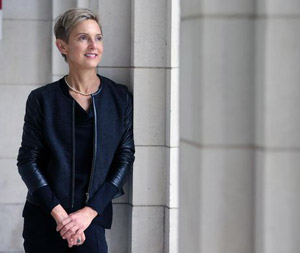 "Diana Huffaker is a truly outstanding researcher, with a record of research excellence in areas of global impact and strategic importance not only to Cardiff University, but also to Wales," comments Cardiff University vice-chancellor professor Colin Riordan. "Securing such an eminent scientist will put Wales firmly on the map as a UK hub for semiconductor technology research and innovation," he reckons. 
"The Ser Cymru Chair in Advanced Engineering and Materials is a unique opportunity to build academic excellence around existing areas of strength within the College of Physical Sciences & Engineering through leveraging partnerships with IQE and small companies within Wales," comments Huffaker. "My research vision is to bring the promise of nanoscale physics to collect and transmit information using light with exquisite speed and sensitivity. With the Ser Cymru investment, I shall build an extensive user facility for materials and nanostructure synthesis not currently available in UK. To meet the needs of industry and academic collaborators, this laboratory will feature nimble flexibility to try new ideas, new material systems and growth methodology."
"Professor Huffaker is the fourth world-class researcher brought to Wales under our Sêr Cymru program [a five-year initiative to attract and support world-class scientific researchers and their teams to Wales]," notes Edwina Hart, the Welsh Government's Minister for Economy and Science. "A strong science research capability is vital to improving our economic well-being and securing a prosperous, healthy and sustainable future for Wales," she adds.

"Semiconductor technology research has the potential to drive developments across many fields including industry, healthcare and communications," believes professor Julie Williams, the Welsh Government's chief scientific adviser. "Professor Huffaker's appointment will boost Wales' growing reputation in this field. A female engineer of such eminence will also be an excellent role model for young girls in Wales."
UK awards £17.3m for Cardiff University-based Compound Semiconductor Research Foundation
Cardiff University planning Research Institute for Compound Semiconductor Technology
Tags: IQE
Visit: www.ee.ucla.edu/people/faculty/faculty-directory/diana-huffaker
Visit: www.cardiff.ac.uk
Visit: www.iqep.com
Visit: www.hefce.ac.uk/rsrch/ukrpif