4 May 2015
Osram's new four-chip Ostar Projection LED ensures 24/7 operation for rear projection systems
Osram Opto Semiconductors GmbH of Regensburg, Germany has added the P2W 01 LED to its Ostar Projection series. The new LED contains four chips that can be controlled in two separate groups, providing an integrated solution that, in the event of emergencies, offers trouble-free operation in safety-related and security-related applications such as control-room monitors.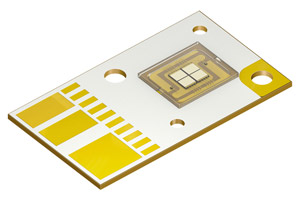 Picture: The new Ostar Projection P2W 01 LED has four chips that can be controlled as independent pairs.
"The redundant systems of the new Osram Ostar Projection LED make it ideal for 24/7 applications," says product marketing manager Andrew Lin. "If a chip should ever unexpectedly fail, the second system will continue to operate without any problem at all," he adds. Up to now, only the chips in the larger Ostar Projection P3W could be controlled separately. The P2W 01 makes this possible with a compact LED that has two self-contained parallel systems with two chips each. The connection design has also been improved, from 2-pad to 3‑pad, providing three connections instead of two. All four chips occupy one pad, and the other two pads are each reserved for a group of two. "A new soldering process ensures that the heat produced in the application remains low, enabling the connection between the chip and the package to withstand higher-temperature operation," says Lin.
The high-current chips in the new Ostar Projection are based on Osram's most advanced thin-film and UX:3 chip technologies. They produce high luminance, resulting in extremely bright and vivid images, says Osram. The new LED enables lighting solutions to be more compact than before, because a smaller active surface is required to achieve the same light output, the firm adds (an of illuminated area 2.6mm x 3.2mm in a 27mm x 16mm x 2.1mm package). Customers who are currently using the P2W can easily upgrade their design to the new P2W 01 because the size and optical and technical data correspond to those of the P2W version. Connectors and other accessories are readily available on the market.
The new LED can be used in particular as a light source for rear projection systems (involving projecting the image onto a screen with the aid of reflective optics). Such systems are often designed without borders. Multiple systems can be arranged seamlessly next to each other, creating a large borderless display with multiple screens on which one image can be shown or a different image can be shown on each screen. These systems are used predominantly in the security sector, where 24-hour operation is needed. Applications include control rooms for subway stations, railroad stations and underground car parks, as well as major events and industrial plant control.
Osram launches high-power versions of Ostar Projection LED for system output of up to 1700lm
Tags: Osram
Visit: www.osram-os.com/osram_os/en/products/product-catalog/