12 May 2015
Osram's Oslon SSL 730nm horticultural LED wins LIGHTFAIR innovation awards
At the LIGHTFAIR International (LFI 2015) trade show in New York (5-7 May), the Oslon SSL 730nm LED of Osram Opto Semiconductors GmbH of Regensburg, Germany received both an Innovation Award and a Technology Innovation Award. Judged by an independent panel of lighting professionals, the LIGHTFAIR Innovation Awards recognize excellence in new lighting products and technologies introduced in the past 12 months.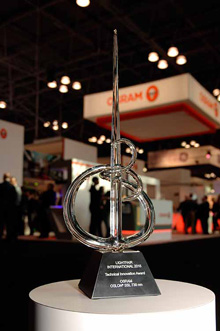 Picture: LIGHTFAIR Innovation Award for the Oslon SSL 730nm LED.
Osram Opto says that its Oslon SSL portfolio provides illumination suitable for all kinds of horticulture. With wavelengths spanning 450-660nm plus the addition of 730nm far-red, the LEDs provide the appropriate lighting for all types of plants and flowers by allowing adaptation of the light exactly to the needs of various crops. Developed for the horticultural market, the ultra-compact 1W-class LED offers a pre-focused 80° or a wide 150° radiation pattern.
Osram notes, as well as having a longer lifetime and hence higher reliability than other lighting technologies and being more energy efficient (drastically reducing energy consumption over time), Oslon SSL LEDs are especially suitable for horticulture lighting as they emit no heat in the lighting direction, so plants are not damaged. Furthermore, LEDs are available in different wavelengths, so lighting solutions can be accurately adjusted to the needs of the specific plant.
Also at LIGHTFAIR, the OmniPoint LED luminaire of North American light firm Osram Sylvania received an Innovation Award for the Most Innovative Product of the Year.
Visit: www.osram-os.com