29 May 2015
Osram develops high-power Duris S 10 as compact, single-LED alternative to multiple low-lumen CoB LEDs
Osram Opto Semiconductors GmbH of Regensburg, Germany has added to its Chip Array SMD family (CAS) with the Duris S 10 LED, which is characterized by high efficiency, high light output and uniform color appearance.
Efficient surface-mounted device (SMD) technology makes assembly simple and leads to significant cost savings in system and optic designs of up to 30%, depending on the particular application, says the firm. The Duris S 10 has a compact footprint and is available in two luminous flux output classes of up to 1400 lumens (at a drive current of 300mA and a correlated color temperature of 3000K at 85°C), simplifying the design of lamps and luminaires. This makes the new LED suitable for use in spotlights, down lights, and directional and omnidirectional retrofits.
"With typical luminous flux packages of 1050 lumens [for the GW P7LM32.EM] and 1400 lumens [for the GW P7LP32.EM] and a light-emitting surface of only 7.7mm in diameter, the new Duris S 10 forms the basis for compact optics and extremely narrow beam angles," says Marc Dyble, marketing & business development manager for general lighting.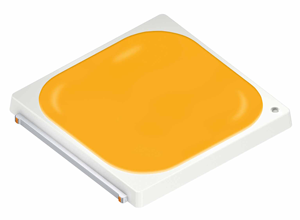 Picture: Osram's new Duris S 10 LED, an alternative to low-power CoB LEDs.
The lumen packages were chosen specifically for standard applications, such as MR16 retrofits, and enable the creation of lamp and luminaire designs on the basis of a single Duris S 10. This helps to prevent multiple shadow effects – an advantage over the frequently used multi-LED clusters, says the firm. Both single-spot versions of the Duris S 10 have the same footprint of 7mm x 7mm, offering flexibility in the design of compact luminaires with high luminous flux. The small size of the LED and simplified design of the optics makes it is easier to integrate standard accessories, such as lenses and reflectors, the firm adds.
Both Duris S 10 CAS LEDs are binned according to the familiar MacAdam ellipses, resulting in a more uniform color appearance. In view of the surface-mounted design of the LED, a printed circuit board (PCB) must be incorporated in the luminaire. This opens up numerous design options such as integrating thermal fuses, connectors or driver components on the LED board. In standard chip-on-board (CoB) solutions, these functions need to be accommodated on a separate PCB, taking up more space, notes Oram Opto. Compared with these established solutions, the two new Duris S 10 LEDs provide compact alternatives in this luminous flux category, the firm adds.
Osram presents 'borderless' chip-size Duris S2 LED as fluorescent tube replacement

Osram adds 90-CRI models to Duris S 5-LED range
Osram launches compact Duris S 8 multi-chip LED for interior lighting retrofits
Visit: www.osram-os.com/duris