18 May 2015
Panasonic launching smallest E-mode 600V GaN power transistor
Panasonic Corp of Osaka, Japan is launching what it claims is the industry's smallest enhancement-mode (E-mode) gallium nitride (GaN) power transistor, encapsulating into an 8x8 dual-flat no-lead (DFN) 'X-GaN' surface-mount package.
A conventional GaN power transistor is encapsulated in a high-heat-diffusion surface-mount TO220 package (measuring 15mm x 9.9mm x 4.6mm), but Panasonic says that this is not small enough and limits the mounting area on the printed circuit board. Enabling the package to be mounted on a small area (difficult to do conventionally) can help to reduce power consumption in industrial and consumer electronics equipment, says the firm.
By using a surface-mounting package, the parasitic inductance is reduced and hence the intrinsic characteristic of the GaN power transistor (high switching performance) is achieved in a smaller footprint (8mm x 8mm x 1.25mm, 43% less than the firm's conventional TO-220 packaged products) at high voltage.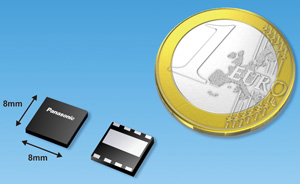 Picture: Panasonic's E-mode 600V GaN power transistor package.
The new transistor has a breakdown voltage is 600V in enhancement-mode, and has achieved high-speed switching of 200V/ns and a low on-resistance of 54-154mΩ. The firm will ship product samples with current ratings of 10A (PGA26E19BV) and 15A (PGA26E08BV) in July.
Applications include AC-DC power supply units (PFCs, insulated DC-DC converters), battery-charging systems, PV power conditioners and electrical vehicle (EV) inverters.
The new product is being exhibited at Power Conversion Intelligent Motion (PCIM) Europe 2015 in Nurnberg, Germany (19-21 May).
Panasonic's creation of the E-mode power transistor was enabled by its original normally-off gate injection transistor (GIT), realized on 6-inch silicon substrate. The latest development work has been partially supported by Japan's New Energy and Industrial Technology Development Organization (NEDO) under the Strategic Development of Energy Conservation Technology Project.
Infineon and Panasonic to establish dual sourcing for normally-off 600V GaN power devices

Panasonic develops 600V GaN power transistor with 'failure-free' stable switching operation
Tags: Panasonic GaN-on-Si power transistor
Visit: www.semicon.panasonic.co.jp/en/products/powerics/ganpower