20 May 2015
Peregrine appoints Colin Hunt as VP of worldwide sales
Peregrine Semiconductor Corp of San Diego, CA, USA, a fabless provider of radio-frequency integrated circuits (RFICs) based on silicon-on-insulator (SOI) says that Colin Hunt has been promoted to VP of worldwide sales. Based at the firm's San Diego headquarters, Hunt will oversee Peregrine's entire sales channel, which includes sales offices in the USA, Europe and Asia.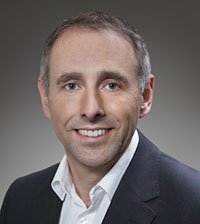 Picture: Colin Hunt, Peregrine's new VP of worldwide sales.
"Colin is the ideal person to fill this role," says CEO Jim Cable. "Not only does Colin bring over 20 years of sales experience, but he brings an understanding of the Murata sales organization. A former employee of Murata, Colin is widely respected by their team and has been a very active participant in Peregrine's integration activities with Murata, both prior to and after the actual deal close."

Hunt joined Peregrine in February 2013 as European sales director. He has a proven track record of growing sales and developing successful business opportunities in both new and emerging markets, with previous experience gained at companies which include RF Micro Devices, NDK and Murata.
Tags: Peregrine CMOS SOI Murata
Visit: www.psemi.com