6 May 2015
Samsung unveils ultra-compact second-generation CSP technology for LED lighting
In booth #521 at the LIGHTFAIR International 2015 trade show in New York (5-7 May), Samsung Electronics Co Ltd of Seoul, Korea has introduced chip-scale packaging (CSP) technology for use in a diverse range of LED lighting applications.
The new CSP technology significantly scales down the size of an LED package, which enables more flexible and compact designs when manufacturing consumer LED lighting modules or fixtures, and lowers the manufacturing and operational costs of a LED lighting system, says the firm. It also provides flexibility in adjusting the size of the light-emitting surface and the luminance level to meet the differing requirements of various lighting fixture applications.
"Our LED chip-scale packaging technology will contribute to providing innovative LED component solutions that can overcome the limitations of today's LED lighting market," believes Dr Jacob Tarn, executive VP, LED Lighting Business Team, Samsung Electronics. "We will incorporate the new technology in future Samsung LED products and continue to introduce more advanced LED technology, while strengthening our presence in the global LED market," he adds. 
The new CSP technology is actually Samsung's second generation of chip-scale packaging. Last year, Samsung introduced LED package products using its first chip-scale packaging technology, which featured a versatile new type of flip-chip packaging. The first-generation CSP was created by flipping over blue LED chips and then adhering a phosphor film to each of them. Unlike conventional LED packages that require a packaging process following the actual chip manufacturing, this allowed chip-scale packages to be created without a mold, enabling more compact LED lighting designs, says Samsung.
In the second-generation CSP, blue LED chips are flipped over and immediately coated with a phosphor substance. The second generation has inherited the advantages of the first-generation CSPs, such as freedom from metal wires and plastic molds, which lead to smaller packages, more compact lighting designs, lower thermal resistance and high current availability, resulting in high flux and greater reliability. In addition, using the second-generation CSP process makes new LED packages even more competitive in raw costs, and achieves higher robustness and reliability with a longer life span, as well as higher operating temperatures and current, claims Samsung.
Based on the new advances, the second-generation CSP technology enables LED packages with an ultra-compact form factor of 1.2mm by 1.2mm - about 30% smaller than the 1.4mm by 1.4mm of the first-generation CSP, while offering a 10% improvement in light performance. It also provides higher light quality with multi-faceted phosphor coating technology, covering the top and four sides of an LED package with phosphor. Because of the small form factor, the new CSP technology can be used in a wide variety of LED packages for applications ranging from ambient light and spotlight, to downlight and bulb lighting, says Samsung.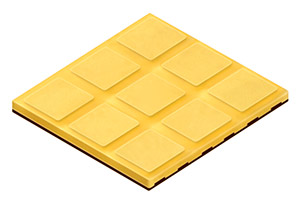 Picture: Samsung's 3 by 3 CSP LED array.
Moreover, the second-generation CSP LED packages can bring greater design flexibility by offering added delivery options. In the manufacturing process, 2 by 2 and 3 by 3 CSP arrays can be created and offered to customers, depending on diverse market needs. Samsung says that the availability of CSP arrays provides not only more design flexibility, but also better light quality in each LED luminaire through their one-lens design, in which the CSP arrays share a single lens instead of having to use individual lenses for multiple conventional packages.
The ultra-compact, second-generation CSP technology is expected to be applied to new LED packages due to be introduced in fourth-quarter 2015, and will support a wide range of correlated color temperature (CCT) specifications.
Visit: www.samsung.com