5 May 2015
Samsung launches flip-chip LED package with wide range of operating currents
In conjunction with the LIGHTFAIR International 2015 trade show in New York (5-7 May), Samsung Electronics Co Ltd of Seoul, Korea has launched the LM301A, a flip-chip-based mid-power LED package that can operate at any power from 0.2W to 1W, providing a wide range of current options (resulting in much improved light efficacy).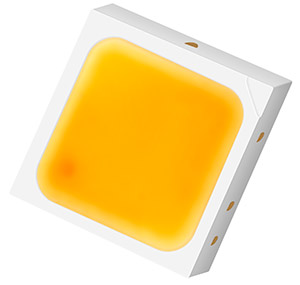 Picture: Samsung's LM301A flip-chip-based mid-power LED package.
Coming in a 3.0mm by 3.0mm form factor that is increasingly popular in LED lighting applications, the LM301A's lower and wider current alternatives are a result of Samsung's flip-chip technology, which allows the LED chip to have the shortest distance from the junction to the base of a package, and eliminates the need for metal wire bonding in the packaging process. These changes enable much lower heat resistance compared with conventional epi-up chip technology (an approximate 5% temperature drop per watt within a more desirable 25-85°C temperature range, it is reckoned).
"Designed with advanced flip chip technology, the new LM301A overcomes what had been significant performance and power limitations of conventional mid-power lighting LED packages," says Dr Jacob Tarn, executive VP, LED Lighting Business Team, at Samsung Electronics.  
The new LM301A LED package offers the following luminous efficacy alternatives:
170lm/W in cool white (5000K CCT, CRI80+, 85°C and 65mA);
160lm/W in warm white (3000K CCT, CRI80+, 85°C and 65mA);
155lm/W in cool white (5000K CCT, CRI80+, 85°C, and 150mA);
145lm/W in warm white (3000K CCT, CRI80+, 85°C and 150mA);
130lm/W in cool white (5000K CCT, CRI80+, 85°C, and 350mA);
120lm/W in warm white (3000K CCT, CRI80+, 85°C and 350mA).
The light efficacy levels make the LM301A package well suited to diverse lighting applications ranging from ambient to high intensity lighting, such as high bays and outdoor lighting, says the firm. In addition, the performance and cost-competiveness of the new mid-power package are expected to suit lighting fixture manufacturers.
Available from July, the LM301A features epoxy mold compound (EMC) packaging, which makes it more reliable and extends its lifespan. Compared to existing polyphthalamide (PPA) and PCT materials extensively used currently in LED packaging, Samsung says that its EMC packaging offers more protection against heat and UV rays, making it suitable for high-luminance LED applications requiring higher wattage.
The new package will also support correlated color temperature (CCT) specifications ranging from 2700K to 6500K.
Visit: www.samsung.com