28 May 2015
Seoul Semiconductor makes inroads into automotive lighting after passing GM reliability tests
South Korean LED maker Seoul Semiconductor has launched new LED packages for the automotive lighting segment to further strengthen its presence in automotive LED lighting.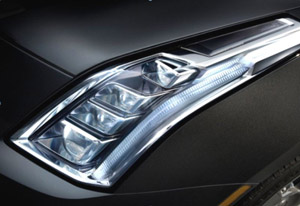 Picture: Seoul Semiconductor's automotive LEDs (Z3) have been applied in the headlamps of GM's Cadillac ELR.
Since 2011, the firm has developed LED packages for the automotive lighting market and has supplied LEDs for headlamps to global auto makers. Earlier this year, its 14 LED packages designed specifically for automotive applications passed reliability tests at General Motors. Seoul Semiconductor says that it is the first Korean firm to have LEDs that conform to GM's reliability standards, and its LED packages have been used in various GM vehicles.
"LEDs for automotive applications have to meet strict certification standards for reliability, lumen output and efficiency set by automobile manufacturers in Europe, USA and Japan," notes Lae-hyun, Kim, VP of the automotive business division. "Seoul Semiconductor is already recognized for its performance and now the sales revenue for its automotive LEDs continues to grow," he adds.
Tags: Seoul Semiconductor Automotive LED lighting LED headlamps
Visit: www.SeoulSemicon.com