26 May 2015
Wireless backhaul RF component revenue to fall 2% over 2014-2019, despite unit growth
Although wireless backhaul radio quantities will grow slowly to about 1.7 million units in 2019, price erosion will cause the corresponding RF component revenue in the segment to decline at a compound average growth rate (CAGR) of minus 2% over the forecast period, according to the Strategy Analytics Advanced Semiconductor Applications (ASA) Forecast and Outlook report 'Wireless Backhaul RF Component Demand: 2014–2019'. The slow growth reflects wireless infrastructure growth in areas that have high wireline network penetration, coupled with a lackluster deployment of the small-cell architecture.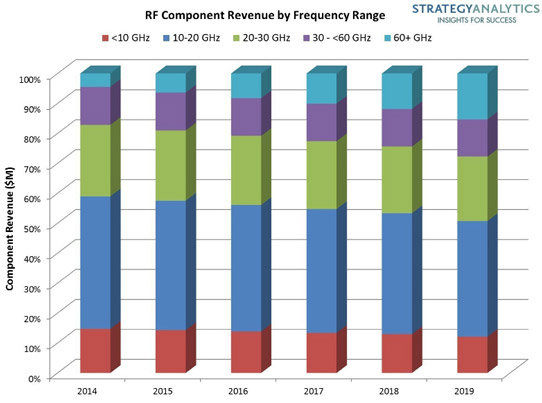 Picture: RF component revenue by frequency range.
However, the need to accommodate rapidly increasing amounts of data consumption will push equipment manufacturers and operators to higher-frequency bands, says Strategy Analytics. The frequency bands at 60GHz and above will see an annual growth rate of 33%, as enormous available bandwidth outweighs the design challenges of these higher frequencies. While this market is served primarily by gallium arsenide (GaAs) devices, gallium nitride (GaN) technology is beginning to see use in this segment, with GaN revenue for power amplifiers forecast to grow to $6m (about 8% of wireless backhaul RF component revenue) in 2019.
"As radio requirements continue to get tougher, we are seeing manufacturers turn to GaN to solve the linearity, bandwidth, frequency and efficiency challenges," notes Asif Anwar, director in the Strategic Technologies Practice. "The low-power functions are still predominately GaAs, but there are significant development activities aimed at integrating transmit and receive functions in silicon." 
"There is no question that backhaul has become a critical part of wireless network deployment and the rapid increase in wireless data consumption is forcing system designers to develop networks that provide options for future growth," says Eric Higham, service director, Advanced Semiconductor Applications. "This 'future-proofing' is leading to fast growth in the higher-frequency bands, but it is also creating much more interest in fiber-based front-haul and the added capabilities which that architecture provides," he adds.
So, even though the quantity of wireless backhaul radios will grow and wireless will remain the backhaul method for more than 50% of the market, fiber-based backhaul networks will capture market share, the report concludes.
Tags: Wireless backhaul 60GHz
Visit: www.strategyanalytics.com/default.aspx?mod=reportabstractviewer&a0=10815