1 May 2015
TSMC raises its commercial-size CIGS PV module efficiency from 15.7% to new record of 16.5%
TSMC Solar Ltd, which was founded in 2009 as a subsidiary of the world's biggest silicon wafer foundry Taiwan Semiconductor Manufacturing Co Inc (TSMC), says that its latest commercial-sized (1.09m2) copper indium gallium diselenide (CIGS) champion C2 module has achieved record total area efficiency of 16.5%, as confirmed by testing firm TUV SUD.
This improves on TSMC Solar's previous record of 15.7% set in mid-2013, as well as the latest record of 16% announced by Manz AG of Reutlingen, Germany just earlier this week. TSMC Solar's latest record module was produced using the equipment and materials at its manufacturing facility in Taichung, Taiwan.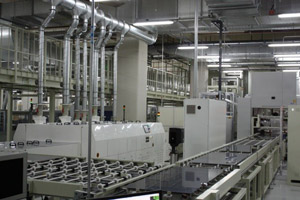 Picture: TSMC Solar's CIGS production line.
"We continue to prove our ability to develop record-setting process improvements in full-size modules," says TSMC Solar's president Chia-Hsiang Chen. "By bringing past innovations to mass production, our current production-line efficiency has improved to an average 14.7%," he adds.
TSMC Solar has also launched its new TS-CIGS Series Model C2 HV module, which has nameplate power spanning 150-165W. Certified by UL for 1000V system operation, the high-reliability modules have a double-glass module design and are produced with 100% electroluminescence (EL) quality screening.
"Our tariff-free Model C2 HV modules are designed for the North America MW-scale market, delivering high energy yield, low system costs and high reliability," says Marc Spaulding, worldwide sales & marketing VP at TSMC Solar.
Manz sets CIGS PV module efficiency record of 16% using mass-production line
TSMC Solar's commercial-sized CIGS modules raise efficiency record for monolithic thin-film PVs to 15.7%
Tags: TSMC Solar CIGS
Visit: www.tsmc-solar.com