23 November 2015
SystemOnGlass optical communications firm ColorChip raises $25m in growth-funding round
Privately held integrated optical communications component and sub-system developer ColorChip of Yokneam, Israel has raised $25m in a round of growth funding.
Founded in 2001 by Dr Shimon Eckhouse and professor Shlomo Rushin of the School of Engineering at Tel Aviv University, ColorChip provides dense, hyper-scale optical transceivers for telecom/datacom markets and planar lightwave circuit (PLC) optical splitters for FTTx markets, after developing unique 'SystemOnGlass' hybrid optical integrated circuit technology.

SystemOnGlass comprises dense multi-lane photonic integrated circuits (PICs) that include both active optoelectronic components (indium phosphide-based lasers and photo-detectors) and passive optical components (PLCs).
The firm uses glass wafers to industrialize its optical devices, allowing for what is claimed to be cost-effective, rapid and highly scalable production, and bringing efficiencies commonly only seen in semiconductor fabrication to optical communications.
ColorChip is also claimed to be unique in Israeli, since it not only develops its solutions but is also vertically integrated and manufactures its core technology in its own fabrication plant in Israel. The fab utilizes the firm's unique IP and is a critical component of its core technology, allowing the industrialized manufacturing of optical assemblies.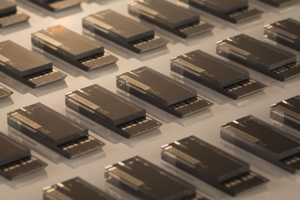 Picture: ColorChip's SystemOnGlass-based products.
The new financing round was led by tech-focused growth equity fund Israel Growth Partners with participation from Vintage Investment Partners and existing investors Gemini Israeli Funds and BRM Group. IGP co-founder & general partner Haim Shani is joining ColorChip's board of directors. "I look forward to benefiting from his experience in scaling up our businesses," comments ColorChip's CEO Yigal Ezra. To date, the firm has raised $60m with Gemini and BRM leading the previous rounds.
Ezra says that the new funding will be used to scale up operations and accelerate its product development roadmap for data-centers that need to increase their traffic capacity. With Internet services becoming more data intensive due to streaming HD video, virtual reality, cloud computing, and IoT devices, there is a growing need for new technologies to help data-centers manage all of the exponentially growing traffic, says ColorChip, adding that its optical communication solutions are positioned to help solve the growing bandwidth demand of the web.
"ColorChip is currently in high-growth mode, with production expected to increase 15 times in the next 24 months," says Ezra. "We are already serving top-tier customers in the USA and China, and this new funding will support our efforts to scale further and meet the accelerating demands of the market," he adds.
"We believe that ColorChip's unique inter-disciplinary optical and networking technology addresses a major pain in an industry that is experiencing exploding bandwidth and speed demands and is looking for breakthrough innovations," says Shani. "IGP believes that ColorChip's technology provides a unique opportunity to better serve the growing demands of the datacom market, and this round will enable the company to scale its operations to meet those demands."
Tags: Optical transceivers InP PICs
Visit: http://color-chip.com