12 November 2015
CST's commercial director Wyn Meredith appointed director of IQE/Cardiff joint venture Compound Semiconductor Centre
Epiwafer foundry and substrate maker IQE plc of Cardiff, Wales, UK has announced the appointment of Dr Wyn Meredith as director of the Compound Semiconductor Centre (CSC), the new joint venture between IQE plc and Cardiff University to be formally launched later in November.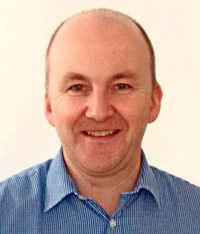 Picture: Compound Semiconductor Centre director Wyn Meredith.
IQE has a long-standing relationship with Meredith, who has been working on its behalf in a variety of roles, most recently developing links to education and funding bodies. In his new role he will be responsible for developing funding opportunities in external programs and will report to the CSC board of directors.
Meredith, who holds a PhD in Optoelectronics from Heriot Watt University, joins IQE from his current role as commercial director at optoelectronics device foundry Compound Semiconductor Technologies Global Ltd (CST) of Hamilton, Scotland, UK.
The collaboration between IQE and Cardiff University that led to the formation of the CSC won the Partnership Award at the Insider Media Business and Education Partnership Awards ceremony held earlier in November. The awards celebrate collaboration between companies, universities and colleges.
IQE and Cardiff University establish JV to develop and commercialize compound semiconductor technologies in Europe
Tags: IQE
Visit: www.insidermedia.com/event/business-and-education-partnership-awards
Visit: www.iqep.com