26 November 2015
Chinese market for packaged LEDs to grow at single-digit annual rate
Due to oversupply and price competition between the suppliers of lighting LEDs, the total Chinese market for packaged LEDs will grow at a single-digit annual rate, forecasts market research firm IHS. The total Chinese market for packaged LEDs was $6.7bn in 2014, including $3.8bn for lighting applications, according to the latest data in the 'Packaged LEDs Report – China – 2015' (part of the IHS LED Intelligence Service).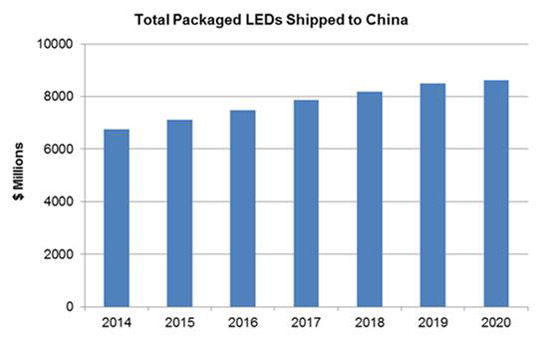 Since too many suppliers produce almost the same LEDs for lighting (e.g. using the 2.8mm x 3.5mm 2835-type LED chip size), the average selling price (ASP) declined significantly in 2015. To ensure revenue growth, different companies therefore use different strategies. Larger companies tend to grow through capacity expansion and acquisition (for example, Hongli acquired Smalite, and Refond acquired Lingtao). Meanwhile, smaller companies are finding it difficult to survive without further investment or a unique technical advantage.
In China in 2014, Nichia had the highest revenue, followed by MLS and Everlight. In addition to MLS, other local suppliers (such as Nationstar) have started to play an important role and are growing quickly, notes the report.
Look just at the revenue of China-based companies, MLS was number one in 2014, followed by Nationstar and Jufei. MLS also had the highest revenue in lighting, signage and 'other' sectors, whereas Jufei led in the backlighting and mobile sectors. Eight Chinese companies had packaged LED revenue of more than $100m in 2014, concludes IHS.
Tags: LED market Lighting market
Visit: https://technology.ihs.com/552309