10 November 2015
Lumileds adds LUXEON XR-M LED to Matrix Platform to accelerate outdoor fixture design
LED maker Lumileds of San Jose, CA, USA has introduced the LUXEON XR-M line of Matrix Platform solutions, designed specifically as a turnkey solution for outdoor LED fixtures.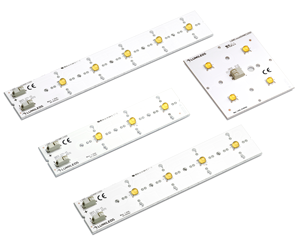 The versatile building blocks integrate 3, 4 or 5 LUXEON M LEDs on a metal core PCB, providing a platform that enables fixture manufacturers to accelerate their design of streetlights, high-bay and low-bay luminaires. For example, the 2-inch x 2-inch LED square version, in combination with industry-standard optics and driver, yields a complete IP66 solution.
"LUXEON XR-M incorporates LUXEON M, one of our most efficient and top-selling high-power LEDs," says Lumileds' Matrix Platform product manager Andrew Cohen. "The boards can be connected in parallel or series for driver design flexibility, and the wide variety of lens options means designers have multiple turnkey options to release a full range of luminaires much faster to market," he adds.
Tags: Lumileds
Visit: www.lumileds.com/LUXEONXRM