5 November 2015
Oclaro achieves positive adjusted EBITDA and non-GAAP operating income
For its fiscal first-quarter 2016 (ended 26 September 2015), Oclaro Inc of San Jose, CA, USA (which provides components, modules and subsystems for optical communications) has reported revenue of $87.5m, down 2% on $89.2m a year ago (which included $7.5m of since-divested Industrial & Consumer business) but up 7% on $82.2m last quarter (and at the high end of the forecast range of $82-88m).
Revenue from 40G products has fallen further, from $22.2m (25% of sales) a year ago and $14.1m (17% of sales) last quarter to $10.8m (12% of total sales). However, while line-side 40G telecom product revenue was down by $4m from last quarter, revenue for end-of-life legacy products was higher than forecasted by about $1m.
Although down on $38.2m (43% of total sales) a year ago, revenue from 10G-and-lower products has rebounded by 6% from $33.8m last quarter to a slightly higher-than-expected $35.7m (remaining 41% of total sales), benefitting from higher-than-expected revenue from final sales of end-of-life products.
Revenue growth was primarily driven by 100G products (both client-side and line-side), almost doubling from $21.3m (24% of total sales) a year ago and rising by 20% from $34m (41% of sales) last quarter to $40.7m (47% of sales).
"We have now firmly put the turnaround challenges behind us and are entirely focused on growing the company based on the strength of our 100G-and-beyond business," says CEO Greg Dougherty. "In the March quarter, we increased our capacity for 100G client-side transceivers. This includes our CFP, CFP2 and CFP4," he adds. "We realized the benefit of this investment initially in Q4 and for the full first quarter of fiscal 2016."
Driven by 100G sales, datacom applications have grown further, from $37.7m (42% of total sales) and $41.9m (51% of total sales) last quarter to $47.5m (54% of total sales), while telecoms applications have fallen from $44m and $40.3m (49% of total sales) last quarter to $40m (46% of total sales).
By region (compared with last quarter), China grew further, from 36% to 38% of total revenue, while the Americas fell back slightly from 31% to 30% and Europe from 22% to 19%, and there were slight rebounds for Southeast Asia from 10% to 11% and for Japan from 1% to 2%. Oclaro's two greater-than-10% customers each contributed 16% of revenue.
On a non-GAAP basis, gross margin has risen further, from 16.5% a year ago and 19.9% last quarter to 26.4% (well above the high end of the forecasted 18-22%). This was driven by revenue flow-through, improved execution (leveraging fixed manufacturing overhead on higher sales), a richer mix of products for both 100G and 10G, and a one-time benefit from final sales of higher-margin end-of-life products (equating to 1% of gross margin).
Operating expenses leveled off at about $23m (26% of revenue), cut by 20% ($5.6m) from a year ago due mainly to restructuring programs implemented last year. Oclaro has hence reported an operating income of $0.4m, compared with a loss of $5.4m last quarter and $13.6m a year ago.
Compared with negative $8.9m a year ago and negative $1.2m last quarter, adjusted EBITDA (earnings before interest, taxes, depreciation and amortization) was positive $4.2m (much better than the forecasted range of between negative $3m and breakeven, and an improvement of $25m on the negative $21m of fiscal 2014 when comparing continuing operations).
During the quarter, cash, cash equivalents, restricted cash and short-term investments fell from $115.1m to $107.7m. The primary use of cash was from working capital of $5.4m, driven primarily by higher sales and capital expenditure (CapEx) of $3.8m.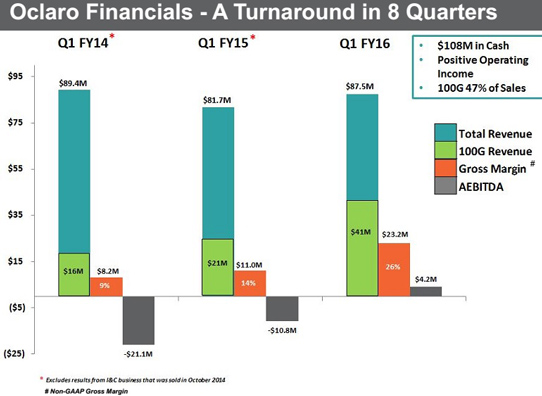 "In addition to reaching our first milestone of generating positive adjusted EBITDA [the firm's first in over four years], we also achieved non-GAAP operating income," notes CEO Greg Dougherty. "This was done ahead of schedule and demonstrates the ongoing success we are achieving with our 100G products and a transition to a richer mix of 10G products," notes chief financial officer Pete Mangan. "These accomplishments resulted primarily from planned cost reductions, operational improvements, and strong growth across our 100G product portfolio over the past two years," adds Dougherty. "We now believe that the foundation is in place to further grow our 100G product revenues and enable continued financial improvement." 
For fiscal second-quarter 2016 (ending 26 December 2015), Oclaro expects revenue to grow to $88-94m, boosted by growth in 100G revenue of 10-20% ($4-8m), offset slightly by a drop of about $3m collectively for 10G (to about $34m) and 40G (to about $10m, then remaining at that quarterly level throughout fiscal 2016). Gross margin should be 24-27% (roughly level quarter-to-quarter, excluding fiscal Q1's one-time contribution from end-of-life products). Adjusted EBITDA is expected to be $3-7m.
"Recently, we began to see very strong demand signals from China as it appears that our customers are preparing for awards for 100G systems from both China mobile and China telecom," says Dougherty. "The demand is for both our client-side and line-side 100G products," he adds. "We expect to see continued 100G sales growth in China and believe that revenue in Q2 and Q3 of fiscal 2016 will continue to be constrained by our ability to increase capacity." For full-year fiscal 2016, Oclaro still anticipates investing $30-40m of CapEx (mostly for assembly & test equipment) to support additional capacity for both 100G client-side and line-side growth.
Oclaro has been qualified and begun shipping CFP2-ACO coherent transceivers for field deployment in the December 2015 quarter. "We have achieved the qualification for products manufactured at our UK production facility, and have begun our builds for qualification of our Asian production lines [expected in the March quarter]," notes Dougherty. Demand continues to exceed supply and Oclaro will be capacity constrained (continuing to ship out of the UK) for several quarters while it waits for Asian lines to start production and to ramp. "The challenges in ramping the production of our ACO product are mostly centered on test and software now, which are difficult given the variety of customer-specific feature sets and test conditions. Once these feature sets and algorithm have been finalized, we expect to see a steady increase in our capacity and production output," he adds.  
"We have now started sampling our QSFP28 transceivers for use iin data centers which are upgrading to 100G and to single-mode fiber infrastructures. Early feedback from customers who have tested our parts has been very positive," says Dougherty. "The QSFP family of transceiver leverages the technology of our CFP products and utilizes what we believe are the world's best high-speed DFB and EML lasers to offer industry-leading performance at 100G," he adds. "We believe that we have best-in-class performance especially in power consumption, which is particularly important to data centers." Oclaro expects to start seeing early revenue from QSFP28 shipments in first-half calendar 2016, and estimates that the potential available market for QSFP28 products is $100-150m in full-year 2016.
Oclaro reports better-than-expected preliminary quarterly results
Oclaro's CFP 100G client-side transceiver capacity expansion compensates for drop in 40G telecom sales
Oclaro's revenue constrained by 100G client-side CFP and CFP2 module capacity
Oclaro's core communications revenue grows 4% quarter-to-quarter
Oclaro's quarterly revenue dips while China digests CFP/CFP2 100G shipments
Tags: Oclaro
Visit: www.oclaro.com