25 November 2015
Plessey named 2015 Company of the Year by the NMI
At an annual awards ceremony in London attended by more than 350 guests from the UK electronic systems industry, UK-based Plessey has been named Company of the Year by the NMI (National Microelectronics Institute), the industry trade body for electronic systems in the UK & Ireland.
"We present awards to recognize the achievements and behaviours that are conducive to a healthy and vibrant electronics industry in the UK and Ireland," says NMI's chief executive Dr Derek Boyd. "Our awards showcase excellence within the industry rewarding the innovation, expertise and ambition of businesses," he adds.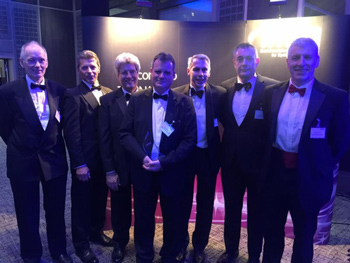 Picture: Receiving the award for Plessey: IC design manager George Ostaszewski, QA manager Robin Steele, product design director Neil Harper, financial director Chris Bailey, chief technology officer Dr Keith Strickland and commercial operations director Alan Colman.
"We are entering a very exciting period with our new LED technology," said Plessey's chief technology officer Dr Keith Strickland at the event. "Our products are now gaining market traction in one of the fastest-growing technology markets, solid-state lighting. The expansion is highly significant not only for Plessey, but also for British high-tech manufacturing," he adds. "We expect that our award-winning MaGIC [Manufactured on GaN-on-Si I/C] GaN-on-silicon technology with integrated electronics and optics will be soon be used around the world in a variety of lighting applications."
In September, Plessey announced a major expansion of its LED manufacturing facility in Plymouth, UK, after securing a £30m loan from Deutsche Bank AG to finance the expansion.
Plessey gains £30m loan from Deutsche Bank for LED production expansion
Tags: Plessey GaN-on-Si HB-LEDs
Visit: www.plesseysemiconductors.com/led-plessey-semiconductors.php
Visit: https://nmi.org.uk