19 November 2015
TowerJazz to buy Maxim's Texas wafer fab for $40m
Specialty foundry TowerJazz (which has fabrication plants at Tower Semiconductor Ltd in Migdal Haemek, Israel, and at its subsidiaries Jazz Semiconductor Inc in Newport Beach, CA, USA and TowerJazz Japan Ltd) has agreed to buy the 8-inch fabrication facility in San Antonio, TX, USA belonging to Maxim Integrated Products Inc of San Jose, CA, USA (which provides analog integration to automotive, cloud data-center, mobile consumer, and industrial applications).
The proposed purchase will expand TowerJazz's global manufacturing capacity, increasing production by about 28,000 wafers per month. Additional capacity is expected to be needed to serve TowerJazz's forecasted customer demand.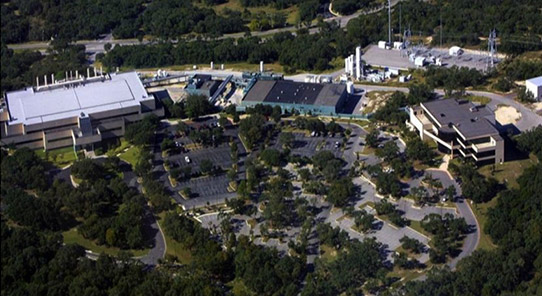 Picture: The Maxim fab in San Antonio, Texas.
As part of the transaction (which is expected to close in January, subject to customary closing conditions), the firms have also signed a long-term supply agreement for TowerJazz to manufacture products for Maxim at San Antonio. The transaction is to be paid in ordinary shares of TowerJazz worth about $40m.
All of the site's nearly 500 staff (production operators, production support personnel, and process and integration engineers) will be retained.
The facility can support analog platforms using geometries down to 130nm and can also manufacture third-party products using TowerJazz specialty process technologies. TowerJazz plans to qualify its core specialty technologies, including radio-frequency silicon-on-insulator (RF-SOI).
"It will provide a quick solution for our significantly growing customer demand, while gaining additional high-quality manufacturing capabilities and global flexibility with the incremental capacity," says TowerJazz's president Dr Itzhak Edrei. "The multi-year supply agreement with Maxim and the new available capacity will enable continuous growth with increased manufacturing scale to support our position as the worldwide leading specialty analog foundry," he adds. 
"We know Maxim very well, having been their supplier for a family of high-end SiGe based products for many years. During this period we have developed an appreciation for Maxim's technical capabilities, business vision and corporate culture," says TowerJazz's CEO Russell Ellwanger. "The San Antonio factory enables us to further strengthen our relationship with Maxim, in a true win-win business model enabling TowerJazz incremental capacity supported by a proven high-performing technical and operational team," he adds.
"We needed a trusted partner to manage our proprietary process technology who also shared our commitment to the employees in San Antonio," comments Vivek Jain, senior VP of Maxim Integrated's Technology and Manufacturing Group. "Tower Jazz has a proven track record with Maxim and similar beliefs about employees, so this is a natural fit. I look forward to our continued partnership over the coming years," he adds. "With this arrangement, we will continue to support our customers for years to come, improve utilization in our Oregon fab, and advance our manufacturing flexibility."
Tags: TowerJazz SOI RF CMOS SiGe
Visit: www.towerjazz.com
Visit: www.maximintegrated.com