20 October 2015
CNBM breaks ground for largest CIGS solar module production plant in China
CNBM (China National Building Materials Group Corp) - the parent company of copper indium gallium diselenide (CIGS) thin-film photovoltaic module maker Avancis GmbH of Torgau, Germany - has celebrated the groundbreaking for one of the largest solar module production lines in China. With the gradual installation leading to an annual capacity of 1.5GW covering a total area of 270,000m2, what is reckoned to be the largest solar production plant for CIGS modules will be built in Bengbu, Anhui Province. The CIGS technology for these production sites will be supplied by Avancis.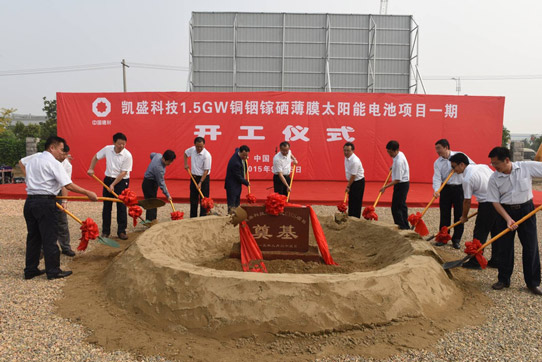 Picture: CNBM's groundbreaking in Bengbu.
Founded in 1984, CNBM is China's largest building materials group, with 180,000 staff and a turnover of €58.6bn in 2014. In 2012 it acquired Germany's CTFSolar GmbH, which provides production equipment and plant for manufacturing cadmium telluride (CdTe) thin-film photovoltaic modules. CNBM is now one of the largest manufacturers of highly transparent front glass for solar modules. The firm is also active in the acquisition, planning and construction of large PV installations via its engineering and project development subsidiary CTIEC. The Chinese government is currently pursuing a program for the development of solar energy, and CNBM aims to play a key role via its acquisition of Avancis in September 2014.
For the Bengbu project, CTIEC, the Bengbu Investment Group and the Bengbu Gaoxin Investment Group plan to invest a total of €1.43bn.
As a manufacturer of CIGS modules, Avancis will provide the technology for the first 300MW production site with a total floor space of 55,000m2. The start of production is planned for the 2017.
"In addition to the basic cost benefits of a fully integrated thin-film production, this expansion also enables us to take advantage of volume effects for further cost reductions," says Avancis' CEO Dr Franz Karg. "With this giant solar project, we also use the unique opportunity to produce and market our thin-film technology locally in the center of the world's largest photovoltaic market," he adds.  
Avancis' existing production line in Germany will be continuously expanded in order to serve the European market, as previously planned.
China's CNBM completes acquisition of Germany's Avancis
Tags: Avancis CIS PV module
Visit: www.Avancis.de