6 October 2015
Lumileds boosts CoB LED flux by 40%, driving down fixture cost for streetlights and industrial high-bay luminaires
LED maker Lumileds of San Jose, CA, USA says that designers of high-lumen streetlights, high-bay fixtures and downlights are taking advantage of the latest addition to its portfolio of LUXEON CoB Core Range LEDs, the LUXEON CoB 1216. The arrays provide a 40% greater flux than Lumileds' existing CoBs in an identical mechanical footprint (achieving up to 15,000 lumens in an industry-standard package).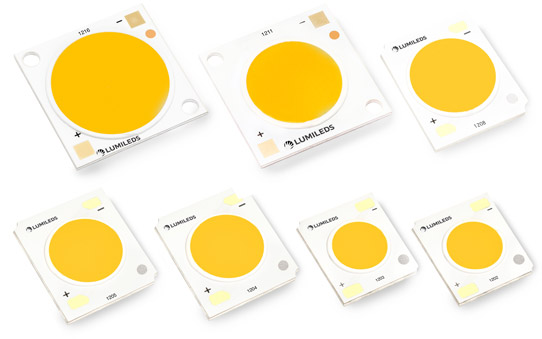 Picture: The new LUXEON CoB 1216 (top-left) as part of Lumileds' LUXEON CoB Core Range of LEDs.
"We continue to push our chip-on-board technology to higher efficiency, which is important in all applications but particularly in outdoor fixtures," says Eric Senders, product line director for CoB LEDs. "With the new line of arrays, customers are achieving 150lm/W at nominal condition, which, combined with our lowest-in-the-industry thermal resistance, leads to the most cost-efficient systems," he adds. 
In addition to high lumen output and efficiency, the LUXEON CoB 1216 provides the beam uniformity and ease of design required for streetlights and high-bay fixtures, allowing replacement of 100-150W HIDs, says Lumileds.
Featuring a 23mm light-emitting surface (LES) in a standard 28mm x 28mm package, the LUXEON CoB 1216 can take advantage of the wide variety of optics and compatible holders in this size, allowing fixture manufacturers to speed time to market of their luminaires. "We are hearing very positive feedback from the several leading lighting companies who have already adopted the LUXEON CoB 1216," says Senders.
The LUXEON CoB 1216 is offered in what is claimed to be the industry's widest range of color temperatures (2200K to 5700K) and color rendering indexes (70, 80 and 90). Also, 100% of LUXEON CoB Core Range (Gen 2) arrays are hot tested at 85°C to ensure performance in real-world operating conditions and to minimize additional testing. A low thermal resistance substrate minimizes heat sink needs.
Lumileds boosts LUXEON CoB Core Range efficacy and flux by 10%
Lumileds named Illumineer of the Year for LUXEON CoB LED with CrispWhite Technology
Lumileds' LUXEON CoB with CrispWhite wins LFI Innovation Award
Lumileds launches CrispWhite Technology for retail settings
Tags: Lumileds
Visit: www.lumileds.com/LUXEONCoBCoreRange