7 October 2015
Qorvo combines GaN on-SiC with advanced packaging to cut cost, increase bandwidth, and save board space in DOCSIS 3.1 upgrades
Qorvo Inc, a provider of core technologies and RF solutions for mobile, infrastructure and aerospace/defense applications, has announced a series of innovations intended to accelerate the deployment of high-speed cable TV (CATV) DOCSIS 3.1 networks while providing cable designers greater flexibility in product design. The firm says that its newest multi-chip module (MCM) packaging, thermal sensing pins and GaN-on-SiC (gallium nitride on silicon carbide) integration capabilities enable CATV product designers to lower costs, increase bandwidth and reduce board space.
Qorvo reckons that its MCM packaging helps to reduce board space by up to 50% and enables up to 30% cost savings versus traditional SOT115J packaging. The MCM packaging includes temperature-sensing pins, which ensure proper assembly and provide optimal thermal management. To facilitate the use of its newest MCM capabilities, Qorvo also offers PCB layout and thermal design support services.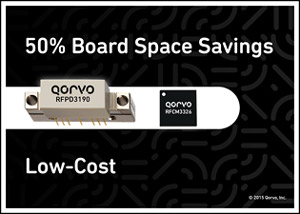 Picture: Qorvo's MCM packaging helps to cut board space by up to 50% versus traditional SOT115J packaging.
Qorvo says that multi-system operators (MSOs) can leverage the output and gain performance of its GaN-on-SiC technology to upgrade equipment within existing product footprints, saving installation time and cost while enhancing performance. Additionally, the GaN-on-SiC technology helps to reduce overall power consumption by up to 20% with associated features such as adjustable current control.
Qorvo's newest DOCSIS 3.1 products include the RFCM3316 and RFCM3326 GaN-based power doubler amplifiers and are available in miniaturized 9mm x 8mm MCM packaging.
The firm's DOCSIS 3.1 forward-path amplifiers operate from 45MHz to 1.2GHz with very high output (capable of 74dBmV composite power), distortion lower than 70dBc, and input and output return loss of -20dB (typical). The reverse-path amplifiers operate up to 300MHz with integrated attenuator and power-down function.
Qorvo's DOCSIS 3.1 products are available in MCM, SOT-115J and standard monolithic microwave integrated circuit (MMIC) packages, including QFN, SOT89 and SOIC. The MMIC products include gain amplifiers, low equivalent input noise current (EINC) trans-impedance amplifiers (TIA), attenuators, switches, filters and complete optical receivers for RF-over-glass (RFoG) and passive optical network (PON) applications. The DOCSIS 3.1 solutions employ process technologies including GaN high-electron-mobility transistors (HEMTs), delivering high linearity, output power and reliability.
Qorvo is showcasing its portfolio of DOCSIS 3.1 products at the SCTE 2015 Cable-Tec Expo in New Orleans, LA, USA (14-16 October).
Qorvo showcasing portfolio of DOCSIS 3.1 products at Cable-Tec Expo
Visit: www.rfmd.com/store/rfcm3316.html
Visit: www.rfmd.com/store/rfcm3326.html
Visit: www.qorvo.com/docs/brochures/qorvo-broadband-docsis-3.1-solutions.pdf