20 October 2015
Wolfspeed presenting RF foundry services and components at MILCOM
Wolfspeed of Raleigh, NC, USA, a Cree Company that supplies gallium nitride on silicon carbide (GaN-on-SiC) high-electron-mobility transistors (HEMTs) and monolithic microwave integrated circuits (MMICs), is exhibiting at the MILCOM 2015 (military communications) conference and exhibition in Tampa, FL, USA (26–28 October).
In booth #431, Wolfspeed's RF Foundry — which is claimed to be the largest dedicated, commercial wide-bandgap production device facility — is presenting its US Department of Defense (DoD) manufacturing readiness level (MRL8+) and Category 1A Trusted Foundry services, in addition to several new Wolfspeed RF components, including a miniature, plastic-packaged 50V/60W broadband GaN HEMT for military communications applications as well as what is claimed to be one of the highest-power Ku-band MMICs on the market.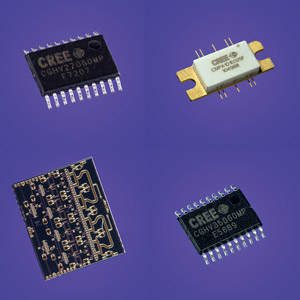 Supplied in a small 4.5mm x 6.5mm surface-mount plastic package, Wolfspeed's new, inherently wideband CGHV27060MP delivers 70% efficiency, 75W of power, and 17dB of large-signal gain over frequency bands spanning UHF to 2.7GHz. Booth visitors can see the high-power, high-efficiency device mounted in an active 2.5–2.7GHz application circuit, and view static examples of Wolfspeed's CMPA1D1E025F 40V/30W two-stage, 50Ω Ku-band GaN MMIC high-power amplifier (HPA), which covers the 13.5–14.75GHz commercial satcom band, delivers satcom measured performance of 20dB linear gain at 42dBm average output power, and enables higher-power, more efficient Ku-band solutions than incumbent traveling-wave tube (TWT) or gallium arsenide (GaAs) solutions.
"Communications play a crucial role in military readiness and operations, so it's critical that these systems are developed, from inception to completion, with the most effective, efficient, and reliable components available," says foundry program manager Ryan Fury. "Wolfspeed not only delivers industry-leading GaN-on-SiC RF technology especially designed to enable next-generation communications systems, but also provides world-class design assistance, proven fabrication processes, testing and support to help customers realize their specifications, and has a proven track record of doing with faster cycle times, higher first-pass design successes, and greater reliability than our competitors," he claims. 
Wolfspeed launches 50V plastic-packaged GaN HEMTs for LTE & radar
Cree names Power and RF division Wolfspeed
Cree registers for IPO of Power and RF subsidiary
Tags: Cree
Visit: www.wolfspeed.com/RF