21 September 2015
Accel-RF launches Quantum SMART fixture for bench-top testing to speed GaN and SiC device development
Accel-RF Instruments Corp of San Diego, CA, USA (which produces turn-key reliability and performance characterization test systems for compound semiconductors) says that it has 'unplugged' the RF SMART Fixture from its automated test platform and made it available for bench-top testing. The new Quantum SMART fixture enables concurrent testing for reliability validation, performance characterization, and product qualification through RF-biased burn-in and product functional testing.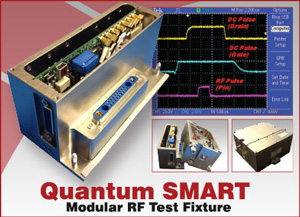 "Unplugging the SMART Fixture from our accelerated life-test platform for use on a benchtop allows for a quantum reduction in the traditional semiconductor technology development roadmap," says president & CEO Roland Shaw. "Implementing Accel-RF's Quantum SMART solution provides both accelerated and enhanced return on investment (ROI) by launching products into the market at a much faster pace," he adds. "The streamlined productivity of this test solution is crucial for rapid insertion of the new generation of gallium nitride (GaN) and silicon carbide (SiC) compound semiconductor technologies envisioned in key commercial and military market sectors."
The Quantum SMART fixture is a programmable self-contained DC bias and RF stimulus control module capable of synchronizing independent pulsed-bias and pulsed-RF signals to a device-under-test (DUT) or remote subsystem. The signals are controlled from a user-interface compatible with Accel-RF's LIFETEST software. The fixture is capable of 'active' temperature control and monitoring of a remote DUT through embedded firmware in the microprocessor.
Tags: Accel-RF
Visit: www.accelrf.com