8 September 2015
Lumileds achieves smooth color mixing with LUXEON C Color Line of LEDs
LED maker Lumileds of San Jose, CA, USA has announced a new approach to achieving color mixing with its high-power LUXEON C Color Line of LEDs. "We've solved the problems of beam halos and mismatched, unmixed color by designing our platform to offer multiple colors with a single focal length," says David Cosenza, product manager for the LUXEON C Colors Line. When secondary optics are applied, the consistent focal length maximizes optical efficiency and provides matching emission patterns, enabling sleek color mixing, says the firm.
Smooth color mixing is particularly significant in studio, stage and television lighting applications that may combine seven colors or more. "Initial feedback from studio lighting professionals confirms that Lumileds LUXEON C Color LEDs' precise color mixing and optical performance will enable a new generation of lighting designs," says Cosenza.
High center-beam candle power (CBCP) or 'punch' is often essential in architectural lighting, notes Lumileds. Applications such as tall, narrow wall washers take advantage of LUXEON C Colors' low dome design, which keeps the source size small, leading to higher punch, more compact optics and greater optical control, it is claimed. Narrow beams are also used in emergency vehicle lighting, where superior punch is essential.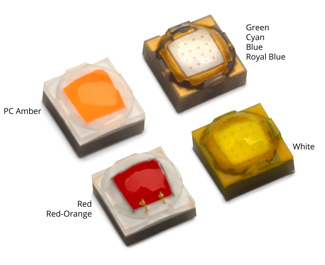 In addition, LUXEON C Color is claimed to be the industry's first hot-tested color line. By specifying LED performance at 85°C, users get guaranteed performance at application conditions. "Predicting changes in chromaticity and light output across temperature for different colors is now a problem of the past," reckons Cosenza. Also, by using what is reckoned to be the industry's lowest-thermal-resistance substrates (as low as 2.8°C/W), users can drive the LEDs harder.
The LUXEON C Color Line features a broad portfolio of colors in a compact 2mm x 2mm package. Colors include PC Amber, Red-Orange, Red, Cyan, Green, Blue, and Royal Blue. Phosphor-converted whites are initially available at correlated color temperatures (CCTs) of 4000K and 5700K with 70 CRI (color rendering index). Additional models will become available in the coming months.
Lumileds launches LUXEON 3535L Color Line of mid-power LEDs
Tags: Lumileds
Visit: www.lumileds.com/LUXEONCColors