29September 2015
Panasonic develops first 4.5W continuous-wave blue-violet laser
Panasonic Corp of Osaka, Japan has developed a blue-violet semiconductor laser with light output power of 4.5W (continuous wave). Even at 60ºC (the maximum operating temperature for lasers in general), this is 1.5 times higher than the 3W of Panasonic's existing products with a conventional structure, says the firm. Also, energy conversion efficiency is 33% (1.2 times higher than the existing product, at 60ºC, for light output of 3W), it adds.
Panasonic says that this improvement has been made possible by its unique double heat flow packaging technology, which improves heat dissipation. This new laser can help laser application systems - such as vehicle and industrial lighting as well as laser machining equipment - to be made smaller and consume less power, reckons the firm.
In general, the output power of semiconductor lasers decreases as the laser chip temperature rises. In addition, because the temperature is the determining factor for laser reliability, the actual light output that can be used in practical applications is limited by the laser chip temperature. Conventional blue-violet lasers dissipate heat from only one side of the laser chip, causing the laser chip temperature to increase and limiting the output to about 3W. Laser systems requiring an output of tens of watts would require a large number of lasers, causing more heat to be generated and requiring larger heat-sinks. To solve this challenge, individual lasers require higher efficiency and larger output, notes Panasonic.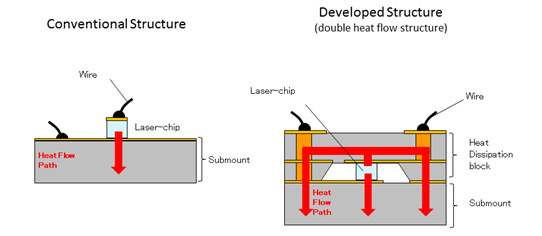 The new double heat flow packaging technology can suppress the increase in the laser chip temperature that accompanies laser beam output. Consequently, the heat-induced drop in laser light output can also be prevented, enabling high-output and high-efficiency operation. As a result, in laser systems using multiple lasers, the number of lasers can be reduced to two-thirds of those using conventional lasers. Moreover, because the heat-sinks can be smaller, the system itself can be made smaller and lighter, says Panasonic.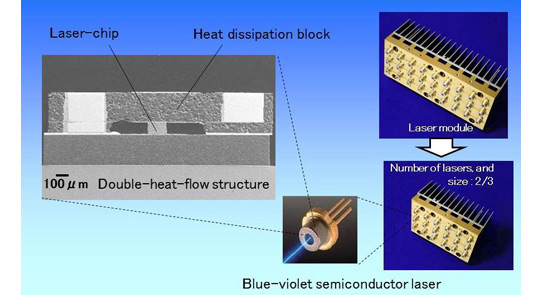 Picture: Double heat flow packaging technology.
Panasonic says that the new device has been made possible through the following technologies:
a heat dissipation structure realized by forming heat flow paths on both sides of the laser chip, increasing heat conduction from the laser chip to 1.6 times that of the existing product (thermal resistance of 6.6K/W for the new product, compared with 10.5K/W for the existing product);
a low-strain heat dissipation block structure using aluminium nitride (which has the almost same coefficient of thermal expansion as the laser chip) - reduced strain in the chip yields stable output, increasing reliability.
Panasonic presented the research results on 28 September at the 47th annual International Conference on Solid State Devices and Materials (SSDM2015) in Sapporo, Japan. The work is partially supported by Japan's New Energy and Industrial Technology Development Organization (NEDO), under the Strategic Innovation Program for Energy Conservation Technologies. Panasonic holds 23 patents in Japan and 31 patents overseas (including pending applications) on the new high-output blue-violet semiconductor laser technology.
Tags: Panasonic
Visit: http://panasonic.net