10 September 2015
Seoul Viosys and SETi to jointly commercialise Violeds UV LED sterilization technology
Seoul Viosys Co Ltd and Sensor Electronic Technology Inc (SETi) of Columbia, SC, USA (in which Seoul Viosys acquired a majority stake just last month) are to jointly commercialize and expand sales of Violeds technology. The technology, which utilizes a UVC wavelength and is ideal for sterilizing purposes, has been used by NASA aboard the International Space Station, where it has facilitated various experiments that require a sterile environment to ensure their validity.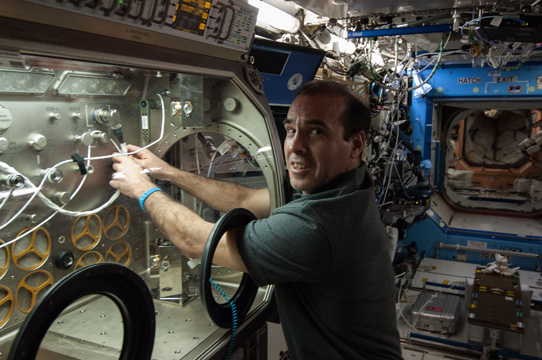 Picture: NASA astronaut using the microbiological test chamber, which includes the Violeds apparatus of SETi. Photo Credit: NASA, Microgravity Science Glove box.
Jaejo Kim, CEO of Seoul Viosys, said, "Violeds technology applied to the use in the space station for disinfection is a very good example of "Creative Economy" a novel technology will contribute to increased employment and to the growth of the national economy as well."
Seoul Viosys was established in 2002 as Seoul Optodevice (a subsidiary of South Korean LED maker Seoul Semiconductor Co Ltd) based on a technical cooperation with Japan's Nitride Semiconductor Co Ltd (the first firm to develop long-wavelength UV LEDs, emitting at 360-400nm, in 2001). It is said to be the first firm specializing in UV LEDs (spanning epitaxy, chip, package and module manufacturing) and the first to develop short-wavelength UV LEDs. Seoul Optodevice was renamed Seoul Viosys in 2013 to denote its expansion from a visible LED and UV LED chip maker to a UV LED system provider.
In 2005 the firm made an equity investment in SETi, and subsequently produced its first 254-340nm UV-C and UV-B (deep UV) LEDs. Seoul Viosys has since maintained close technical cooperation with SETi for over 10 years to commercialize UV LED chips with wavelengths below 350nm. According to the firm, it is now capable of producing LEDs spanning the entire UV wavelength range (from 230nm to 405nm), and holds over 10,000 patents related to the field. Applications include the bio, hardening, forgery detection, medical appliances and sterilization markets.
Seoul Viosys says that it will expand SETi's capacity for mass production by up to 3 times, and will expand into new product markets for Violeds.
Tags: Sensor Electronic Technology UV LEDs Seoul Optodevice
Visit: www.s-et.com
Visit: www.seoulviosys.com