28 April 2016
First Solar's CFO Mark Widmar to succeed CEO Jim Hughes, who remains on board as advisor
First Solar Inc of Tempe, AZ, USA – which makes thin-film photovoltaic modules based on cadmium telluride (CdTe) as well as providing engineering, procurement & construction (EPC) services – says that chief financial officer Mark R. Widmar has been appointed chief executive officer, effective 1 July, when he will also join the board of directors. As part of a transition plan, he will succeed James A. Hughes, who plans to step down as CEO on 30 June but will continue to support the firm in an advisory role and remain on the board.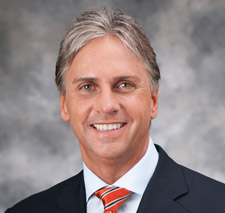 Picture: First Solar's CFO Mark R. Widmar, to be CEO from 1 July.
Widmar has been chief financial officer since joining First Solar in April 2011 and served as chief accounting officer from February 2012 through June 2015, overseeing the firm's industry-best balance sheet and strong financial performance. Widmar also serves as CFO and as a director on the board of 8point3 Energy Partners LP, the joint yieldco formed by First Solar and SunPower Corporation in 2015 to own and operate a portfolio of selected solar generation assets.
"As we enter a new phase of growth and development for the company, we believe that Mark's proven leadership and expertise make this an ideal time for him to take the helm," comments chairman of the board Michael J. Ahearn. "Under Jim's astute guidance, First Solar achieved the strongest technology position in our history, with record bookings of new business and unparalleled financial strength in the industry… We look forward to benefiting from his continued involvement as an advisor and director," he adds. 
First Solar also announced that Alexander Bradley, VP, treasury & project finance, has been appointed interim chief financial officer, effective 1 July.
Prior to joining First Solar, Widmar served as CFO at GrafTech International Ltd (a manufacturer of advanced carbon and graphite materials) from May 2006 through March 2011 and as president, engineered solutions, from January 2011 through March 2011. Prior to GrafTech, Widmar served as a business unit chief financial officer from November 2002 to 2005 then as corporate controller until 2006 at NCR Inc. Prior to NCR, he served as a division controller at Dell Inc from August 2000 to November 2002. Widmar also held financial and managerial positions with Lucent Technologies Inc, Allied Signal Inc, and Bristol Myers/Squibb Inc. He began his career in 1987 as an accountant with Ernst & Young. Widmar holds a Bachelor of Science in Business Accounting and a Master of Business Administration from Indiana University.
Tags: First Solar Thin-film photovoltaic CdTe
Visit: www.firstsolar.com