20 April 2016
Rohm showcasing new third-generation 650V SiC Schottkys and 1200V/180A full-SiC modules at PCIM
In hall 9, booth 316 at PCIM (Power Conversion Intelligent Motion) Europe 2016 in Nuremberg, Germany (10-12 May), Japan's Rohm Semiconductor is showcasing its latest power products for high-speed switching and high-power performance, while meeting the need for greater energy savings and higher efficiency.
3rd-gen SiC Schottky barrier diodes (SBDs) for enhanced performance and reliability
Continuing to develop its portfolio, Rohm is introducing its new third-generation silicon carbide (SiC) Schottky barrier diode (SBD) for enhanced performance. The first products are rated at 650V/6A, 8A and 10A (supplied in a TO220AC package), and realize the lowest VF and lowest IR within the entire temperature range among all SiC SBDs available on the market, it is claimed. They also feature high surge current capability, which is suitable for power supply applications. As this 3rd-Gen product contains a PN junction structure along with a Schottky barrier, durability in bipolar operation is ensured, says the firm.  
3rd-gen 1200V/180A full-SiC module for efficient high-frequency operation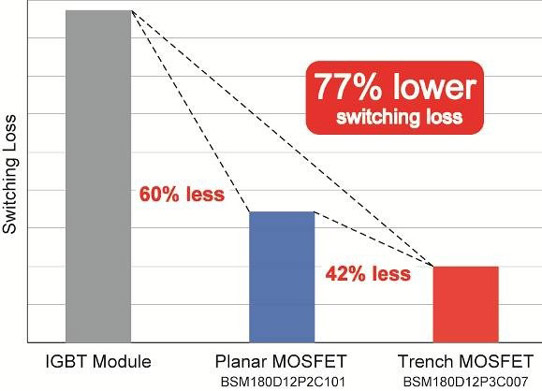 After pioneering commercial power modules equipped with SiC-MOSFETs and SiC-SBDs, Rohm is presenting its new BSM180D12P3C007 SiC power module, which is rated at 1200V/180A. The half-bridge SiC module integrates mass-produced trench-type SiC MOSFETs and embedded SiC SBDs in the same footprint as previous modules. Based on the UMOS structure, the new module achieves 77% lower switching loss than conventional silicon-based IGBT (insulated-gate bipolar transistor) modules and 42% lower switching loss than SiC modules utilizing SiC-DMOS structures. This not only enables high-frequency operation but also contributes to smaller cooling systems and peripheral components, which in turn results in greater energy savings and end-product miniaturization, says Rohm.
Rohm starts mass production of first trench-type SiC MOSFET
Rohm presenting third-generation SiC trench MOSFETs at PCIM
Tags: Rohm SiC Schottky barrier diodes SiC power MOSFET
Visit: www.rohm.com/web/global/sic-mosfet
Visit: www.mesago.de/en/PCIM/main.htm