17 March 2016
Mitsubishi Electric shrinks integrated 100Gbps 40km EML-TOSA to 30% size of predecessor
Tokyo-based Mitsubishi Electric Corp says that on 1 July it will start shipping a laser-diode transmitter optical subassembly (TOSA) capable of supporting 100Gbps optical transmissions. The new FU-402REA is being displayed at the Optical Fiber Communication conference & exhibition 2016 (OFC) in Anaheim, CA, USA (20-24 March).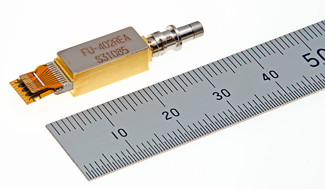 Picture: Mitsubishi Electric's new FU-402REA 100Gbps EML-TOSA.
The new TOSA, which comprises four 1.3μm-wavelength electro-absorption modulator lasers (EMLs) integrated with an optical multiplexer, offers what is claimed to be one of most compact EML-TOSA solutions available for IEEE 100GBASE-ER4 applications. Modulated by a small driving voltage, operating power consumption is low (2W maximum) with a high extinction ratio (9dB typical) for an output power of –2 dBm to +2dBm.
Mitsubishi Electric says that, in response to the growing need to install communication equipment in increasingly confined spaces, its new laser-diode TOSA offers long-distance 40km transmission capability (e.g. between data centers) in one of the industry's smallest footprints. Optical multiplexer and other components have been optimized to reduce the package size to 6.5mm x 25.0mm x 5.4mm (just 30% that of its predecessor FU-401REA), compliant with common specifications for CFP4 optical transceivers. This combination is expected to help downsize 100Gbps communication facilities and expand high-speed 100Gbps optical transmission networks.
Mitsubishi Electric launching 10G DWDM can-type EML-TOSA optical transmitter module to reduce power consumption in radio access networks
Mitsubishi Electric's new 10Gbps EML-TOSA transmitter module cuts power consumption by 50%
Tags: Mitsubishi Electric EML TOSA
Visit:  www.mitsubishielectric.com/semiconductors/products/opt