20 December 2017
Osram spotlights LED and laser solutions in Rinspeed's Snap concept vehicle at CES
© Semiconductor Today Magazine / Juno Publishing
Osram Opto Semiconductors GmbH of Regensburg, Germany is the exclusive lighting partner for Switzerland-based think-tank Rinspeed's Snap autonomous concept vehicle, which features many of Osram's LED, laser and optoelectronic sensing solutions from the ultraviolet (UV) and visible to infrared spectrum, and is being launched at the 2018 Consumer Electronics Show (CES) in Las Vegas (on display in Harman's exhibit at the Hard Rock Hotel, 9-12 January).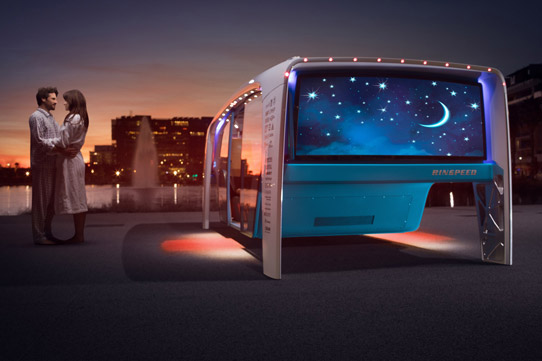 Picture: Rinspeed's Snap autonomous concept vehicle.
To give Snap a distinctive look and feel, Osram Opto provided human-centric lighting that coordinates the interplay of light, atmosphere and space. Also, using facial recognition technology powered by a new generation of infrared LEDs, Snap can adapt to the individual requirements of each passenger. Everything from personalized lighting options to preferred temperature to seat position can be adjusted to meet a passenger's needs. Entering the vehicle becomes even more customized and secure with iris scanning technology, featuring Osram's infrared LEDs.
"Our cutting-edge infrared LED technologies are making vehicles more individualized for passengers than ever before by bringing the latest biometric identification applications to the automotive industry," says Bodo Ischebeck, VP & general manager of Industry and Mobile Devices at Osram Opto.
Osram Opto's LED technology also demonstrates how dynamic information can be transmitted to both drivers and pedestrians. Projection lighting welcomes passengers and provides safety advice for pedestrians. LEDs and lasers convert front and rear windows into information-rich screens for conveying marketing messages or communicating with the vehicle's surroundings. LED license plates can be customized with the driver's information to accommodate future car-sharing regulations.
"As we enter a new era of autonomous vehicles, lighting will become even more important," believes Wolfgang Lex, VP & general manager of Automotive at Osram Opto. "Suddenly, the car is not just a car. It's an office on wheels, a library, a living room, or an art studio where you can paint a picture during your commute hours. Logically, cars will need lighting that's appropriate for all these activities and more."
Osram Opto says that it is bringing advanced technologies used in other industries to the automotive world. Biomonitoring on smart watches connects to the Rinspeed vehicle to assist passengers experiencing a sudden health issue. Finally, high-power UV LEDs disinfect Snap after each use to prevent the spread of germs.
Osram is showcasing many of its automotive lighting technologies at CES (including its range of interior and exterior automotive applications) in booth #3115 in the North Hall of the Las Vegas Convention Center.
Visit: www.osram-os.com