2 February 2017
Oclaro's quarterly revenue rise of 14% drives further records in gross margin and operating income
For fiscal second-quarter 2017 (to end-December 2016), Oclaro Inc of San Jose, CA, USA (which provides components, modules and subsystems for optical communications) has reported revenue of $153.9m, up 14% on the record $135.5m last quarter and up 64% on $94.1m a year ago.
Growth was driven by 100G-and-beyond product revenue of $113.8m (74% of total sales), up by 16.6% on $97.8m (72% of total revenue) last quarter and by 130% on $49.5m (53% of total sales) a year ago, driven mainly by the ramp up in demand for the CFP2-ACO product.
For 40G-and-below products, revenue was $40.1m (26% of revenue), down by 10% on $44.6m (47% of revenue) a year ago but up by 6.4% on $37.7m (28% of revenue) last quarter. Of this, 10G products grew strongly by almost $5m from last quarter, driven by very strong demand for the firm's 10G tunable product portfolio, compensating for the drop-off in 40G product revenue.
By end-market, client-side (datacom) sales were $69.8m (45% of total revenue), up by 2% on $68.4m (50% of revenue) last quarter and by 37% on $51m (54% of revenue) a year ago. Line-side (telecom) sales were $84.1m (55% of total revenue), up by 25% on $67.1m (50% of revenue) last quarter and by 95% on $43.1m (46% of revenue) a year ago, after growing 25% sequentially, driven by operational execution on the 100G CFP2-ACO product line.
China continues to be very strong, growing 9% sequentially. Nevertheless, by region, China comprised 42% of total revenue (down slightly from 43% last quarter), Southeast Asia 26% (up from 23% last quarter), the Americas 21% (up from 19%), and Europe, Middle East & Africa (EMEA) 10% (down from 13%).
"Our December quarter was very strong, with improvement in all our financial metrics," says CEO Greg Dougherty "In addition, we had record gross margin and operating income resulting from higher revenue, a richer product mix, and favorable foreign exchange rates," he adds.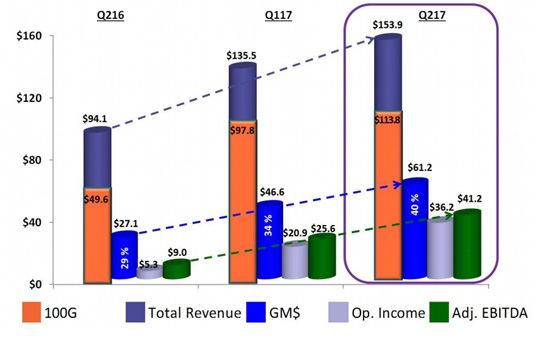 On a non-GAAP basis, gross margin has risen further, from 28.8% a year ago and the record 34.4% last quarter to 39.8% (well above the 33-36% guidance), driven by a richer 100G and 10G product mix. Without the benefit of a favorable foreign-exchange related to the Yen, gross margin would have been 38%.
Operating expenses have fallen from $25.8m (19% of sales) last quarter to $25m (16% of sales), although OpEx benefited by $1.1m from the weaker yen and pound.
Operating income has risen further, from $5.3m (6% of sales) a year ago and the record $20.9m (15% of sales) last quarter to $36.2m (24% of sales), well above the $22-26m guidance.
Likewise, net income has risen further, from $3.1m ($0.03 per diluted share) a year ago and $20m last quarter ($0.14 per diluted share) to $36.3m ($0.21 per diluted share).
Adjusted EBITDA (earnings before interest, taxes, depreciation and amortization) has risen further, from $9m a year ago and $25.6m last quarter to $41.2m. Hence, after subtracting capital expenditure (CapEx) of $17.2m (up from $14.2m last quarter) and working capital (including prepaid expenses) of $9.8m (up from $6.8m), overall cash, cash equivalents, restricted cash and short-term investments hence rose during the quarter by $14.2m from $229.3m to $243.5m.
For fiscal third-quarter 2017 (ending 1 April), Oclaro expects revenue to rise to $156-164m, driven by healthy demand across multiple markets. This is despite the seasonal price negotiations (towards the more favorable end of the usual 10-15% reduction) and a projected drop in revenue of several million dollar from 10G and 40G product lines. Specifically, 40G-and-below product revenue should be in the mid-$30m range, and is expected to drop by another few million dollars in fiscal Q4 as Oclaro ends the 40G line-card program (then remaining in the low- to mid-30s for the rest of the year, as 10G has a very long tail). Gross margin should fall to 36-39%. Operating income is expected to fall slightly to $32-36m.
"At today's current exchange rate, we believe we can maintain operating expenses of 16-18% [as a proportion of revenue] for this year, with R&D of 9-10% and SG&A of 7-8% of revenue," says chief financial officer Pete Mangan.
Regarding CapEx for the remainder of fiscal 2017, Oclaro expects to invest $40-50m to expand manufacturing capacity. In turn, an additional depreciation of about $1m per quarter will start in the March quarter.
"Our technology leadership in the 100G-and-beyond, plus our tunable lasers, have us well-positioned for ongoing success," says CEO Greg Dougherty. "We continue to see strong demand for our products in the three market drivers that we've talked about during calendar year 2016: China, metro market and data-center applications," he adds. "We expect to see continuing strength in China as our 100G coherent port counts continue to grow and provincial network buildout increase. This translates into more growth for our narrow-linewidth tunable lasers, our lithium niobate modulators, and 100G client-side transceivers. Many of these products remain sold out. While we continue to experience sold-out conditions for our 100G client-side CFP transceivers during Q3, we do expect the shift to CFP2, CFP4 and QSFP28 transceivers to accelerate through the summer," Dougherty notes.
"We also continue to experience strong demand for our 10G tunable devices and modules. Here we're seeing a combination of a need for 10G metro applications, as well as the shift for using tunable transceivers such as the tunable SFP+ to replace fixed-wavelength modules. In addition to all of this demand, we expect to see increasing CFP2-ACO activity in China throughout calendar year 2017," he adds.
"Finally, on China, the temporary export license for ZTE, which remains a greater-than-10% customer, is currently set to expire at the end of February. At this time, we do not expect to see interruptions in our ability to continue shipping product to ZTE," Dougherty notes.
"We expect demand for the CFP2-ACO in the metro market to stay strong and ramp through calendar year 2017. We are very well positioned with the two primary equipment suppliers to this market," believes Dougherty. "We also continue to see very strong demand for the CFP2-ACO from both traditional equipment suppliers and new web 2.0 customers for data-center interconnect applications. We also expect to see this demand continue growing for 2017," he adds.
"Calendar 2017 will be year the 100G takes off for interconnection within the data center," he believes. "We continue to be sold out of capacity for QSFP28 LR4 and CWDM products for datacenters. We expect the market to be sold out or, at a minimum, remain very tight for at least all of the calendar year."
"The impact of datacenter architectures continues to broaden," notes Dougherty. "I am pleased with the increased penetration of core indium phosphide (InP) laser technology inside the datacenter, at the edge of the datacenter, and between datacenters. Our proprietary building blocks such as indium phosphide tunable lasers, Mach-Zehnder modulators and directly or externally modulated high-speed lasers are proving to be key enablers to the massive and cost-effective scaling of the cloud infrastructure."
"Our multiple market drivers - China, the metro market and datacenters - continue to be healthy. We continue to have good visibility into the market demand in all three of these segments and we have several confirmed purchase orders that take us well into calendar year 2017," says Dougherty. "In addition, we've negotiated or are completing negotiations of several multi-year contracts or extensions contracts for some key product like the ACO that run as long as through calendar year 2018."
"We are now shipping beta units of our CFP8 PAM4 400G transceivers. The CFP8 utilizes our unique high-speed externally modulated laser (EML) technology. It is being shipped to enable design wins at network equipment manufacturers, where these transceivers will primarily be used in 400G system demonstrations and trials with leading service providers." Oclaro expects to be shipping qualified products in second-half calendar 2017.
"Given the strength of the markets that we are serving, combined with our technology leadership for 100G-and-beyond, we feel very good about our prospects not just for our Q3 as reflected in our guidance, but for the entire calendar year," says Dougherty. Oclaro hence expects to grow total revenue for full-year calendar 2017 by 25-30% compared with 2016. "We can maintain our gross margin in the upper 30-40% range," he believes. "This gross margin, when coupled with about 17% operating expenses, should leave us with the sustainable non-GAAP operating income as a percentage of sale in the high teens to low 20s."
Oclaro expecting quarterly revenue at high end of $146-154m guidance
Oclaro revenue grows for fifth consecutive quarter, up 55% year-on-year, driven by 100G
Oclaro's revenue grows for fourth consecutive quarter, up 52% year-on-year
Oclaro reports 100G revenue growth for fourth consecutive quarter, up 94% year-on-year
Oclaro's quarterly revenue grows 8%
Tags: Oclaro
Visit: www.oclaro.com