6 January 2017
Osram provides LED-based lighting for Rinspeed's Oasis concept car
Lighting manufacturer Osram of Munich, Germany (claimed to be the world's top automotive lighting provider) is the exclusive lighting supplier for Oasis, the latest concept vehicle from Switzerland-based think-tank Rinspeed, whose latest concept vehicle is designed to reimagine what the driverless vehicle experience could look and feel like in the future. Rinspeed is launching the Oasis at the 2017 Consumer Electronics Show (CES 2017) in Las Vegas, where the vehicle is on display at the Harman exhibit in the Hard Rock Hotel (4-7 January).
Osram supplied five Multi-LED modules for each headlamp, featuring an innovative design that can be used to create a personalized, custom-built headlamp. Depending on the performance desired, low and high beams can be achieved using 6-10 Multi-LED modules, which can also be coupled with an electronic system to offer a broad range of animation sequences, including welcome lights as well as the ability to coordinate the headlights with other light functions of the vehicle.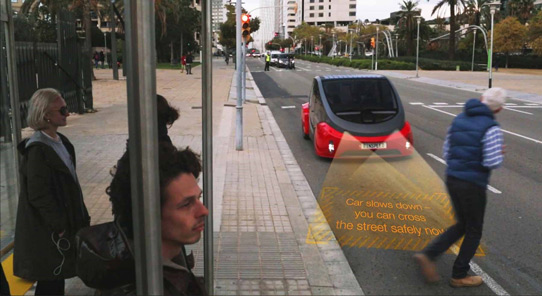 Oasis features two auxiliary forward lighting LED projection modules for demonstrating how LED technology could be used to welcome the driver to the vehicle, provide a high-quality source of illumination at night to safely guide drivers down the road, and communicate with the outside world. For example, the LED system could indicate to pedestrians that they are seen by the vehicle and aid their decision of when to cross the road. In the future, these same LED-based systems could possibly provide entertainment or functional value when the vehicle is at rest, such as projecting movies, status information, or other video content onto any outside surface.
Osram is showcasing some of its automotive lighting technologies at CES, demonstrating its range of interior and exterior automotive applications at booth 6338 in the North Hall of the Las Vegas Convention Center.
Tags: Osram LED headlights
Visit: www.osram.com/CES