25 January 2017
Peregrine introduces UltraCMOS 12 RF SOI platform
Peregrine Semiconductor Corp of San Diego, CA, USA – a fabless provider of radio-frequency integrated circuits (RFICs) based on silicon-on-insulator (SOI) – has unveiled its UltraCMOS 12 technology platform.
Now in production, the next-generation RF SOI platform has what is claimed to be the industry's lowest RONCOFF performance level of 80fs — a 25% improvement over the last generation. To develop the 300mm UltraCMOS 12 platform, Peregrine collaborated with full-service semiconductor foundry GlobalFoundries Inc of Milpitas, CA, USA.
As a key metric for RF switching, Peregrine's performance benchmark for each new generation of the UltraCMOS platform is RONCOFF, the product of how much loss occurs when a radio signal goes through a switch in its ON state (on-resistance) and how much the radio signal leaks through the capacitor in its OFF state (off-capacitance). With each new UltraCMOS generation, Peregrine targets a 20% improvement in RONCOFF, but UltraCMOS 12 has surpassed this.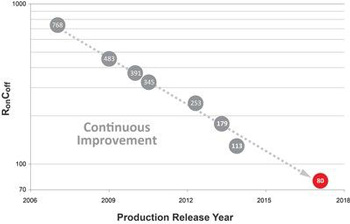 OFF_graph.jpg" alt="" class="floatRight" />Picture: UltraCMOS 12's RONCOFF performance of 80fs, a 25% improvement on the prior generation.
"For nearly three decades, Peregrine's UltraCMOS technology platform has been at the forefront of RF SOI performance – especially for RF switching," says Alain Duvallet, VP of RF process technology. "This legacy continues with today's introduction of the UltraCMOS 12 platform," he adds.
Like the two prior generations UltraCMOS 10 and 11, UltraCMOS 12 technology uses a custom fabrication flow from GlobalFoundries. Introduced in July 2015, UltraCMOS 11 was the industry's first RF SOI 300mm platform. Introduced in October 2013, UltraCMOS 10 delivered the industry's best RONCOFF performance at the time.
"Our joint development with Peregrine Semiconductor continues to produce remarkable results," comments Raj Nair, GlobalFoundries' VP of technology development. "This new RF SOI technology reaffirms our commitment to the RF market and is another example of how GlobalFoundries can provide industry-leading levels of performance, reliability and scalability."
Peregrine launches first 300mm RF SOI technology platform
Tags: Peregrine CMOS SOI RF switches GLOBALFOUNDRIES
Visit: www.psemi.com
Visit: www.globalfoundries.com