5 January 2017
RayVio launches 60mW UV LED for disinfection and sterilization
Health and hygiene company RayVio Corp of Haywood, CA, USA, which is commercializing deep-ultraviolet (UV) LEDs and consumer disinfection solutions, is delivering what is claimed to be the first 60mW UV LED in volume.
The firm says that, with the XP Series, disinfection of flowing water, whole-room sterilization and purification of household products and medical instruments can be achieved safely and efficiently without the use of fragile and hazardous mercury lamps. Even 'superbugs' like MRSA can be safely and effectively rendered harmless.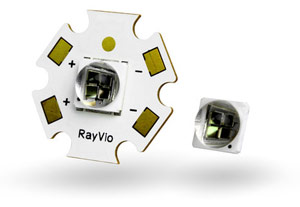 Picture: RayVio's XP Series UV LED.
 "The global need for clean water, sanitary environments and protection against infectious disease is critical," says chief technology officer Dr Doug Collins. "In China, India, Brazil, on the African continent, in the US and elsewhere, people will continue to get sick or die because bacteria and viruses proliferate and, too often, people lack the infrastructure, patience or tools to slow or eliminate the spread of germs." With the 60mW output from the XP Series, it is possible to address some larger-scale infrastructure problems, such as the disinfection of running water with a safe, efficient and long-lasting solution, the firm adds.
"The first ever sterilizing pod – Ellie – is just one example of how little time it takes to improve lives with our UV LED technology," says Collins. "Ellie can sterilize baby bottles, purify water and sterilize surfaces on pacifiers, keys and more to keep children safe from germs."
RayVio is exhibiting in stand 41672 at the Consumer Electronics Show (CES 2017) in Las Vegas (5-8 January). Ellie is also on show at stand BT216, as part of the BabyTech Summit at CES.
RayVio launches medium-power UV LEDs in 3535 package for consumer UV disinfection and phototherapy applications
RayVio launches surface-mount UV LEDs for compact, portable disinfection of water and environments
RayVio expands UV LED manufacturing capacity and global sales force
RayVio claims record deep-UV LED cw power density of 30W/cm2
Tags: UV LEDs
Visit: www.rayvio.com/xpseries
Visit: http://ellieduv.com