27 June 2017
Lumileds extends LUXEON CoB Core Range to 30,000 lumens
LED maker Lumileds of San Jose, CA, USA has added three new products to its LUXEON CoB Core Range to satisfy high-lumen-output applications such as streetlights, stadium lights and high-bay & low-bay fixtures.
"We now have the ability to address not only 40W and 50W applications but up to 100W and 120W applications with these high-lumen packages, at the same high efficacy as our LUXEON CoB Core Range (Gen 3) products," says Eric Senders, product line director for the LUXEON CoB (chip-on-board) family.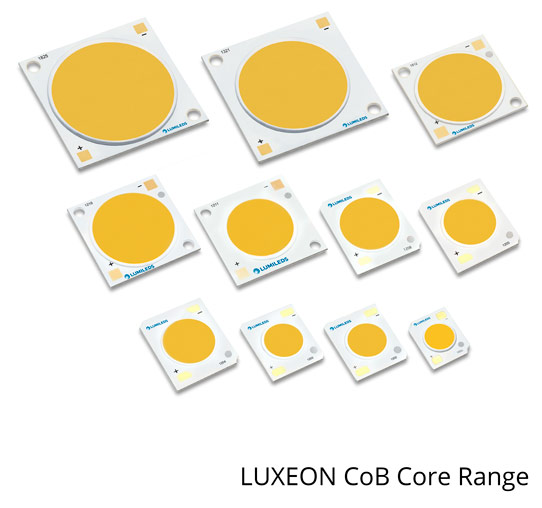 The high-lumen extension of the LUXEON CoB Core Range (Gen 3) features light-emitting surfaces (LES) of 23mm, 29mm and 32mm, nominal fluxes of 8800lm, 11,000lm and 16,000lm at drive currents of 1.2A, 2.1A and 2.2A, plus luminous efficacy up to 161lm/W. The arrays are offered over a color temperature range of 2700-5700K and color rendering index (CRI) options of 70, 80 or 90, with an efficient 70-CRI solution in warmer 3000K for outdoor lighting as well as a special color requirement for studios and stadiums where cool color temperatures and high (>90) CRI are required.
The CoBs are mounted on square metal core PCBs (MCPCBs), which provide what is said to be the industry's lowest thermal resistance, enabling smaller heat-sinks and optics for lower overall system cost. "Feedback from many CoB customers indicates that heat-sinks alone make up a substantial portion of system cost," says Senders. "By keeping the LES as small as possible and having a low-thermal-resistance substrate, a smaller heat-sink can be used and a good portion of the cost has been removed from the system."
The LUXEON CoB Core Range (Gen 3) CoBs are compatible with an existing ecosystem of optic, drivers and holders that is said to enable faster time to market of outdoor streetlights, high-bay & low-bay fixtures.
Lumileds doubles flux of LUXEON CoB Core Range with new High Density option
Tags: Lumileds
Visit:  www.lumileds.com/LUXEONCoBCoreRange