1 March 2017
Anokiwave expands to new headquarters in San Diego
Anokiwave Inc of San Diego, CA, USA, which provides highly integrated silicon core chips and III-V front-end integrated circuits for millimeter-wave (mmW) markets and active electronically scanned array (AESA)-based terminals, has relocated its headquarters to a custom remodeled office, doubling the floorspace from its prior location to accommodate its growing team in San Diego (complementing the firm's other office and lab space in Billerica, MA).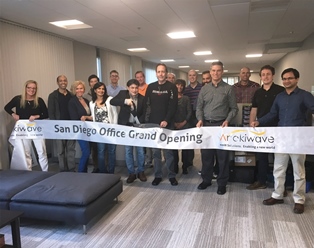 Picture: Grand opening of Anokiwave's new San Diego headquarters.
The new open-concept floor plan features a low noise environment suitable for engineering teams with areas suitable for large groups, allowing interaction with adequate space for a planned engineering laboratory.
"Anokiwave's leadership in the 5G, radar and SatCom active antenna ICs for mmW markets required a larger office space to accommodate our growing product portfolio, capabilities, and staff," says founder & chief technology officer Nitin Jain.
"The highly integrated silicon IC design expertise and innovative culture is at the core of Anokiwave's mission," says CEO Bob Donahue. He adds that new product launches over the next few months will build on last year's launch of the AWMF-0108, the world's first commercial 5G 28GHz active antenna IC.
Tags: Radar
Visit: www.anokiwave.com