1 May 2017
CST Global appoints VP operations; attains ISO 9001:2015 accreditation
III-V optoelectronic foundry Compound Semiconductor Technologies Global Ltd (CST Global) of Hamilton (near Glasgow), Scotland, UK has appointed Gary Palmer as VP operations. He joins from Huawei-CIP.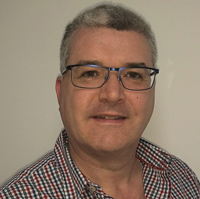 Picture: Gary Palmer, CST Global's new VP operations.
Following a BEng(Hons) in Microelectronics from Glasgow Caledonian University, Palmer has held senior management and director roles during his 25 years working in the UK semiconductor industry (including for Intense, IQE Europe, NEC Semiconductors, Samsung Semiconductors and Anadigics Inc). He has worked in quality & reliability engineering, product engineering, project management and operations disciplines covering CMOS, III-V RF and III-V photonics and silicon, gallium arsenide (GaAs) and indium phosphide (InP) devices. He also has experience of supply into demanding consumer, automotive, aerospace, defence and telecoms markets.
"As VP operations, I have responsibility for all of CST Global's foundry services, from epitaxial growth and fabrication, through to assembly and packaging," says Palmer, who highlights the challenge of taking III-V optoelectronic products from R&D into volume production, using lean manufacturing practice in a ISO 9001:2015 environment.
CST Global attains ISO 9001:2015 for the design, development and manufacture of optical devices
CST Global has attained ISO 9001:2015 accreditation for Quality Management Systems applicable to the design, development and manufacture of optical devices. The accreditation's scope adds exacting management processes and procedures to all 3" and 4" wafer fabrication and test processes.
"ISO 9001: 2015 demands that all management, production and test processes are measured and maintained. Responsibility for this is assigned to the CST Global management team," says quality control manager Gerald O'Connor. "We operate in a potentially hazardous environment, using many toxic materials. Validated risk assessments are essential, with continuous measurement of all processes a requirement. This includes the new MOCVD machine and the automatic bar stacker machine for 4" wafers. Many of our suppliers meet equivalent standards and, ultimately, it gives our customers total confidence in the quality of our products," he adds. 
"ISO 9001: 2015 accreditation impacts every aspect of the company," notes CEO Neil Martin. "For its successful implementation, staff across the entire company must take responsibility for their individual part of the quality process," he adds. "CST Global can now supply market-leading companies in the data center, cloud and telecommunications markets, who expect this level of quality control."
Tags: CSTG
Visit: www.compoundsemi.co.uk