9 May 2017
Solar Frontier's CIS solar panels installed at Shell HQ buildings in Thailand
Tokyo-based Solar Frontier – the largest manufacturer of CIS (copper indium selenium) thin-film photovoltaic (PV) solar modules – says that its CIS thin-film solar panels have been installed at two buildings at the Shell headquarters in Thailand. The project was constructed by Energy Pro Corporation Ltd, a Thai solar power engineering, procurement & construction (EPC) specialist that has worked with Solar Frontier on multiple other projects.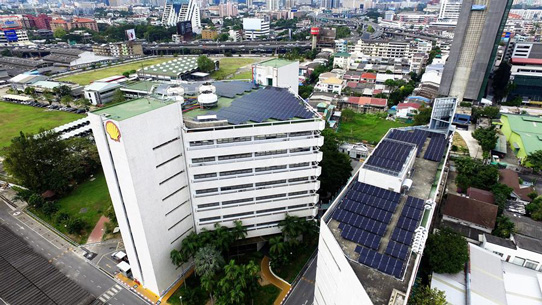 Picture: Solar Frontier's solar panels installed on two buildings of the Shell HQ in Thailand.
Solar Frontier's CIS thin-film solar panels are 119.68kW in size and are installed on two rooftops of Shell House HQ in Bangkok. Expected annual power generation is 179,479kWh and all power generated will be for self-consumption, leading to an expected level of CO2 reduction of 104 tons over the first year.
"This initiative follows from a similar program last year where we had solar panels installed on the roofs of two of our Shell retail stations in Thailand," says Asada Harinsuit, chairman, The Shell Companies of Thailand, and vice president, Retail East. "We see our efforts here as helping to contribute to Thailand's renewable energy goals as well as to reducing Shell's CO2 levels across our organization," he adds.
Tags: CIS thin-film PV modules
Visit:  www.solar-frontier.com