27 November 2017
LG Innotek claims first 100mW UV-C LED, two years ahead of forecast
© Semiconductor Today Magazine / Juno Publishing
Seoul-based materials and component manufacturer LG Innotek (a subsidiary of South Korean electronics company LG Group) has developed what is claimed to be the first 100mW UV-C LED, two years ahead of the industry forecast of 2020. The firm unveiled the first 70mw UV-C LED for sterilization applications only in February.
Emitting ultraviolet light with short wavelengths of 200-280nm (deep UV), UV-C LEDs are used in sterilizing and hardening devices due to their ability to destroy bacterial DNA and cause chemical reactions with special materials. LG Innotek's UV-C LED emits in the range of 278nm.
UV-C LEDs can produce more powerful sterilizing effects with higher light output, but it is very difficult to obtain stable quality in products containing them due to heat. Firms that have led the market had planned to launch 100mW UV-C LEDs by 2020.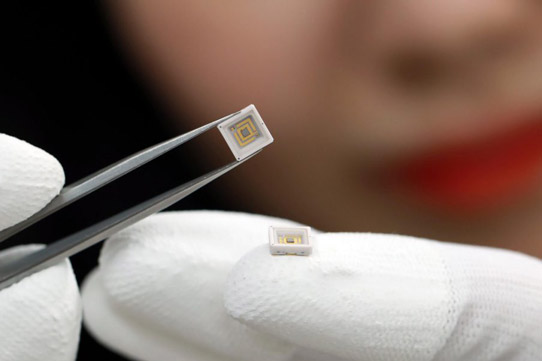 LG Innotek says that it has overcome technical limitations by applying an epitaxial structure and vertical chip technology that maximize light extraction. UV output is raised and heat is discharged effectively, ensuring stable reliability. The new 100mW UV-C LED can emit strong sterilization UV light for more than 10,000 hours, it is reckoned.
LG Innotek says that, by developing the 100mW-output UV-C LED, it can now expand their range of applications. As the product can rapidly sterilize flowing water and even air, it can be used in a wide array of household appliances, from water purifiers and air purifiers to air conditioning systems for buildings and automobiles as well as water treatment devices. Conventional UV-C LEDs (with light output of 1-2mW) are mostly used for portable sterilizers or small household appliances. Due to their weak UV-C power, their scope of application is limited. LG Innotek says that the quality of its UV-C LEDs has already been proven by its launch of products such as LED modules for sterilizing water purifier faucet aerators and UV LED sterilizers for escalator handrails.
As the development of products using UV-C LEDs by other global companies proliferates, and as demand for high-output LEDs continues to grow, it is expected that demand for 100mW UV-C LEDs will also rise rapidly. According to market researchers, the UV LED market is expected to more than triple from $166m in 2016 to $526m by 2020, with the UV-C segment in particular rising from $28m to $244m, notes LG Innotek.
LG Innotek launches UV LED module for sterilizing water purifier faucets
LG Innotek unveils first 70mW UV-C LED
Tags: LG Innotek UV LEDs
Visit: www.lginnotek.com