23 November 2017
Osram's new LED chip plant in Malaysia enters operation
© Semiconductor Today Magazine / Juno Publishing
Lighting company Osram GmbH of Munich, Germany says that its new LED chip factory in Kulim, Malaysia has begun operation on time (within the targeted end-2017), just 2 years after the announcement (in November 2015, as part of its 'Diamond' innovation and growth initiative) and 18 months after groundbreaking. "We are both on schedule and within budget," noted Osram Licht AG's CEO Olaf Berlien at the opening ceremony in Kulim.
"Given our enormous recent growth rates of 19% in the LED business, we are pleased to have the new production capacities," he adds. "Our investment in Kulim also attests to the technology shift and our transition to becoming a high-tech corporation: at the beginning of this decade, conventional lighting still accounted for 80% of Osram's business. Today, two-thirds of our sales are based on optical semiconductors."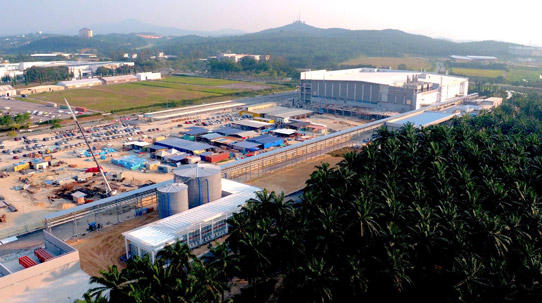 Picture: Osram's new LED chip factory in Kulim.
The new factory is modular and hence expandable. A total of €370m has been invested in the first stage of completion. Osram can expand the factory in two additional stages, entailing total investment of up to €1bn, including expansion of LED assembly capacities in Osram's global factory alliance.
"With one week's production we could completely retrofit the street lighting of the metropolises New York, Rio, Hong Kong and Berlin with LEDs. To upgrade the entire street lighting worldwide, Kulim would have to produce LEDs five and a half years long exclusively for this purpose," notes Aldo Kamper, CEO of the Osram Opto Semiconductors business unit in Regensburg, Germeny.
The Kulim plant will initially produce blue LED chips (which, via a phosphor-based converter layer, can generate white light) for general lighting purposes, such as public street lighting, but also for façade lighting, private and commercial interior and exterior lighting, or for billboards – as well as for special applications such as horticulture lights. The global LED market for general lighting is estimated to be €6bn in 2018, roughly 6% of which is for street lighting. An average growth rate in the market of 7% per annum is foreseen through 2020. The overall market for optoelectronic components – including general lighting – will be €17.5bn in 2018.
In the medium term, the plan is to also produce LED chips for premium applications, such as automotive lighting and video projection. Due to the new plant being a green-field development, no compromises had to be made in its design, in addition to featuring the latest technology. Compared with 4-inch wafer technology, the 6-inch production systems produce 125% more LED chips per wafer in a single cycle.
Osram is currently investing worldwide in the expansion of the existing six sites in its LED production network. It is therefore also expanding its plant in Regensburg, which currently has about 2500 staff but will hire up to 1000 extra staff. Premium LED chips and laser diodes (used, for example, in high-quality car headlights) will be made there as well as infrared diodes for sensors (for applications including facial recognition in mobile phones, or in cars for intelligent assistance systems such as proximity control).
Osram will also be expanding its site in Schwabmünchen, Germany. In the future, it will manufacture LED primary materials in cleanrooms there. In addition, Osram has another plant for LED primary products in the US city of Exeter. In Wuxi, China, Osram is expanding its capacity for assembling LED chips into complete LEDs (with a housing and partly with primary optics). LED chips are also manufactured and assembled in Osram's plant in Penang, Malaysia (just 30km away from Kulim).
Osram Opto orders Veeco GaN MOCVD and PSP systems for new LED production facility in Malaysia
Osram investing €3bn in lighting by 2020
Tags: Osram
Visit: www.osram.com/cb/about-osram/kulim-factory