16 April 2018
SWIR camera market to grow at 7.1% CAGR over 2018-2025
© Semiconductor Today Magazine / Juno PublishiPicture: Disco's DAL7440 KABRA laser saw.
The shortwave infrared (SWIR) camera market will increase at a compound annual growth rate (CAGR) of 7.1% during 2018-2025 (including linear cameras growing at 8.31%), according to a report from market research firm Esticast Research & Consulting.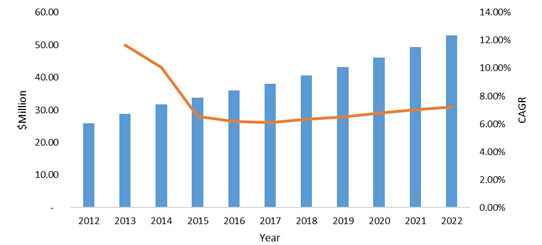 By application, the optical communication segment dominated in 2017, holding nearly three-sevenths of the total market. "With the rapid development of imaging technology and optics, SWIR cameras will experience a hike in demand for various commercial as well governmental applications such as product inspection, counterfeit object detection and defense and military sector," the report forecasts.
North America nearly a third of market in 2017
The USA is the largest consumer of SWIR technology, especially for homeland security issues including prevention of terroristic attacks, oil spills in the marine environment and other public disputes. In 2013, the US Air Force Research Laboratory (AFRL) at Wright-Patterson Air Force Base, Ohio, issued a broad agency announcement for the program 'Industrial Base for Low Cost Shortwave Infrared (SWIR) Camera Cores'. Moreover, favorable initiatives taken by the US government for the development of biological sciences and agriculture are motivating authorities to place more emphasis on the R&D of imaging techniques, opening a growth pathway for the market.
However, during 2018–2025, the market in Asian countries such as China and India is expected to grow at the fastest rate.
Area cameras to exhibit impressive growth, with increasing demand from defense sector
In the current scenario, there are many countries dealing with immense border disputes and terrorism threats. This has led to an increase in security concerns among the respective governments, compelling them to adopt the latest defense components. SWIR area cameras have emerged to provide surveillance for securing risky zones. They can be mounted on trucks, buildings and unmanned aerial vehicles (UAVs) and can proficiently detect any human activity or threat, even in dark and foggy situations. Moreover, such cameras are preferred by geologists for studying various physical aspects of the earth.
Expanding portfolio and enhancing products to boost major players
Major market players (which include Sensors Unlimited, Xenics, Photonic Science, Princeton Instruments, Axiom Optics, New Imaging Technologies, IR Cameras, Atik Cameras, and Raptor) are investing a large proportion of their revenue into R&D in order to launch enhanced products. In May 2017, Princeton Instruments introduced a new class of high-quality indium arsenide (InAs)-based SWIR device, which is being used for in-vivo imaging by Massachusetts Institute of Technology (MIT). Acquiring other players is also helping companies to enhance their technical capability and strengthen their foothold in the market. In January, Israel's SCD SemiConductor Devices acquired US-based Quantum Imaging, with the intention of strengthening and expanding SCD's SWIR-related activities in the US defense and homeland security markets.
Tags: SWIR cameras IR detectors
Visit: www.esticastresearch.com/market-reports/shortwave-ir-camera-market