11 April 2018
LED packaging market revenue grows from $15.975bn in 2016 to $18.035bn in 2017
© Semiconductor Today Magazine / Juno PublishiPicture: Disco's DAL7440 KABRA laser saw.
Annual LED packaging market revenue has grown steadily over the past year, from $15.975bn in 2016 to $18.035bn in 2017, according to a report from LEDinside (a division of market research firm TrendForce).
In 2017, the top three LED package suppliers were Nichia, Osram Opto Semiconductors and Lumileds. However, China's MLS rose from seventh in 2016 and to fourth in 2017 following its significant capacity expansion to meet increased demand in the lighting and display market, says LEDinside research director Roger Chu. Seoul Semiconductor remained fifth, benefitting from significant growth in sales of backlight CSP (chip-scale packaged), flash LEDs, lighting, automotive products and UV products. Samsung LED was hence leapfrogged, from fourth in 2016 down to sixth in 2017, while Everlight was pushed down from sixth to seventh. Cree, LG Innotek and Nationstar remained eighth, ninth and tenth, respectively.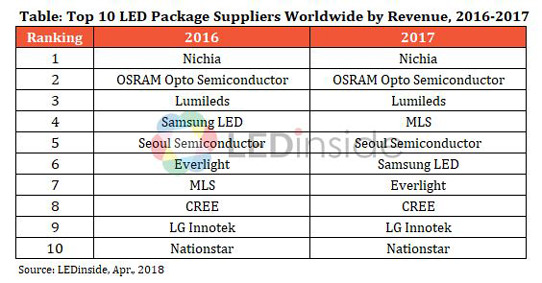 Nichia remained the revenue leader in the global LED package market in 2017, but has been challenged by competitors in the blue LED sector. It is therefore actively involved in sectors such as WCG (wide color gamut) backlight LEDs, ultraviolet (UV) LEDs, blue and green lasers and automotive lighting, while maintaining its market share through holding patents.
Among manufacturers based in Europe and the USA, Osram has the best revenue performance due to its long-term and solid foundation in automotive lighting and recent achievements in infrared sensing. In the general lighting sector, Osram is actively launching new products, and is outsourcing the manufacturing of small- and medium-power products to OEMs in Taiwan and China, as it hopes to increase its share of the LED lighting market. In order to ensure profitability, Lumileds and Cree have begun to focus on niche applications such as automotive lighting, niche lighting and architectural lighting.
Impacted by Chinese LED makers offering lower prices, most Taiwanese LED makers have reduced the proportion of low-profit lighting products in their product mixes, and transited to applications with high gross margin. For example, Everlight has been actively developing automotive lighting, UV/IR lighting, and mini-LED backlight applications.
On the other hand, Chinese LED makers have developed rapidly due to the rise of the domestic market and the increasing demand for general lighting products and displays. As a result, companies such as MLS and Nationstar continue to expand their production capacity, resulting in them rising up the revenue ranking.
In addition, in recent years the financial subsidies offered by local governments in China have prompted many Chinese LED makers to increase production capacity.
Aided by their cost advantages, these manufacturers have also received many orders from overseas companies. As a result, Chinese LED makers continue to rise up the ranking. In 2017, the market share of Chinese makers in the global LED packaging market reached 35%, up from 30% in 2016, concludes the report.
Tags: LED market
Visit: www.ledinside.com