4 April 2018
SiC and GaN substrate markets to grow to $180m and $3m respectively in 2018, driven by rapid development of 5G and automotive technology
© Semiconductor Today Magazine / Juno PublishiPicture: Disco's DAL7440 KABRA laser saw.
5G is expected to enter commercial operation in 2020, while vehicles become more intelligent, networked and electric, driving the substrate market for the 'third-generation' semiconductor materials silicon carbide (SiC) and gallium nitride (GaN) to $180m and $3m, respectively, in 2018, forecasts market research firm TrendForce.
Compared with mainstream silicon-based devices, SiC and GaN devices are more resistant to high-voltage operations. SiC and GaN materials also outperform silicon in high-temperature and high-frequency operation, respectively. In SiC and GaN power devices, the sizes of chips are smaller, while the circuit designs are simplified, so modules, components and cooling systems are also smaller. The entire vehicle can hence become more lightweight. In addition, SiC and GaN's properties of low on-resistance and low switching loss will be key to improving automotive battery life, notes TrendForce, so the development of SiC and GaN power devices is closely associated with the advancement of electric vehicles.
However, SiC materials remain at the stage of testing and introduction. In the automotive area, SiC power devices are currently only applied in race cars, so SiC-based production by area accounts for less than 0.1% of all automotive power devices worldwide, according to TrendForce. Currently, GaN-on-SiC and GaN-on-Si are the two mainstream production approaches for GaN power devices. GaN-on-SiC has excellent heat dissipation performance and is suitable for high-frequency operation, making it commonly used in 5G base stations. It is expected that the SiC substrate market will rise in the next five years after automobile companies complete tests and 5G enters commercial operation in 2020.
The cost of GaN substrates remains high, so GaN substrate revenue is much smaller than that of SiC substrates currently. However, GaN devices' resistance to high-frequency conditions makes them a point of focus for technology companies, notes TrendForce. GaN-on-SiC technology is now used in high-specification products. On the other hand, GaN-on-Si is more cost effective and has become mainstream in the GaN power device market, with the possibility of greater growth in the sectors of power management chips and charging systems for automobiles and smartphones, reckons the market research firm.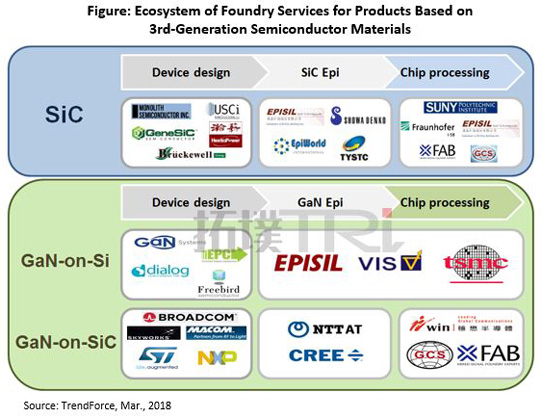 Since these third-generation semiconductor materials show market potential due to the rapid development of 5G and automotive technology, manufacturers have begun providing foundry services for SiC and GaN devices, cutting into the supply chain where integrated device manufacturers (IDMs) like Cree, Infineon, Qorvo etc used to dominate. For example, Taiwan Semiconductor Manufacturing Corporation (TMSC, the world's biggest semiconductor wafer foundry) and Vanguard International Semiconductor (VIS) provide GaN-on-Si foundry services. Taiwan's WIN Semiconductors Corp focuses on GaN-on-SiC sectors and business opportunities arising from 5G base stations. In addition, X-Fab, Episil Technologies and Global Communication Semiconductors (GCS) also provide SiC and GaN foundry services. The development of foundry services will drive growth of the SiC and GaN materials market, concludes TrendForce.
Tags: SiC GaN-on-SiC GaN-on-Si Power electronics
Visit: www.trendforce.com