28 August 2018
Lextar debuting micro-LED chip technologies and UFP I-Mini RGB display module
© Semiconductor Today Magazine / Juno PublishiPicture: Disco's DAL7440 KABRA laser saw.
At the Touch Taiwan 2018 exhibition at the Taipei Nangang Exhibition Center (29-31 August), vertically integrated LED firm Lextar Electronics Corp of Hsinchu Science Park, Taiwan is unveiling its micro-LED chip capabilities (with a die size down to under 20µm and luminous efficiency reaching over 30%) including debuting two new micro-LED chip technologies – R/G/B Micro LED chip and Color Conversion Micro LED chip – which can meet different micro-LED mass transfer processes.
The firm reckons that it is one of the few in the industry manufacturing flip-chip, lateral and vertical micro-LED chips. Applied in displays, Micro-LEDs have the advantages of high resolution, high brightness, fast response time and long life, as well as being slim and compact, suiting wearable devices, smart phones, virtual reality (VR) and automotive displays.
Lextar is also debuting a series of Mini LED products, including the next-generation UFP I-Mini RGB display module and mass-produced slim Mini LED light board products that can be applied to panel backlights.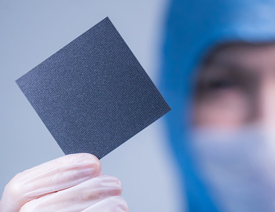 Picture: Lextar's UFP I-Mini RGB display module.
The ultra-fine-pitch integrated mini RGB display module incorporates small RGB chips transferred onto drive circuit substrates. This combines not only traditional SMT and UFP CSP chip-level packaging technology but also integrated control circuit and LED display chips. The UFP I-Mini RGB display module can realize a minimal pitch to 0.3mm, allowing smoother image quality performance as well as simplified processing. With its high-brightness and high-contrast features, it is suitable for indoor and semi-outdoor applications.
For backlighting, Lextar is exhibiting mini-LED light boards for 32-inch and 15.6-inch panels, in which the 15.6-inch panel splits the mini-LED backlight into 240 control zones. It can achieve HDR 1000nits high dynamic contrast, and makes panels significantly slimmer, reducing the OD area to under 0.3mm, suitable for high-end notebooks, gaming monitors and automotive panels.
Visit: www.lextar.com