6 December 2018
Disco launches high-precision fully automatic 8-inch wafer grinder for difficult-to-grind materials
At SEMICON Japan 2018 at Tokyo Big Sight (12-14 December), Tokyo-based equipment maker DISCO Corp - which makes semiconductor manufacturing equipment including chemical mechanical polishing (CMP) systems and laser-based ingot slicing equipment and processes for silicon carbide (SiC) - is exhibiting the new DFG8640 (to be available in January), a fully automatic grinder compatible with 8"-diameter wafers suitable for a wide variety of materials including silicon (Si), lithium tantalate (LiTaO3, or LT), lithium niobate (LiNbO3, or LN) and silicon carbide (SiC).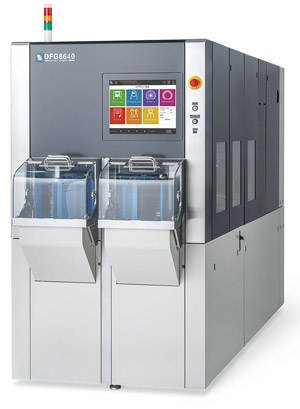 Picture: DISCO's new DFG8640 wafer grinding system.
Wafer-level thinning and grinding targeting low-height semiconductor memory and logic memory are essential for high functionality and high space efficiency of final products based on electronic components, notes DISCO. The gap between target thickness and actual thickness, as well as wafer thickness variation after grinding, may affect the characteristics of products such as power devices and some sensors, so a grinder capable of high-precision processing is needed, it adds.
In particular, demand for surface acoustic wave (SAW) devices (used in mobile communication devices including smartphones) continues to expand. Lithium tantalate and lithium niobate (the materials for those devices) are difficult to grind, and high-precision processing is required.
DISCO says that the DFG8640 fulfills these needs, and offers both a small footprint and further productivity improvement.
The DFG8640 achieves high-precision grinding through (1) optimizing the processing point layout (reducing the thickness variation both for individual wafers and between wafers); and (2) developing a new spindle (with high rigidity, low vibration and less rotation speed fluctuation) and a new small chuck table axis (with high rigidity, low vibration, low heat expansion and less rotation speed fluctuation) and improving the driving resolution of the axis (which moves the spindle up and down).
Also, by reducing the cleaning mechanism operation time and redesigning the transferring arm, the wafer throughput of the DFG8640 is more than 1.2 times that of the DFG8540. In addition, system footprint has been reduced by about 13%.
Finally, the new equipment layout has taken accessibility into consideration, improving wheel replacement operability. In addition, a new graphical user interface (GUI) enables intuitive operation such as swiping.
DISCO completes construction of new Kyushu building
Disco develops DAL7440 KABRA laser saw for 8-inch SiC wafers
Disco launches fully automatic polisher for CMP of difficult-to-process materials including sapphire
Tags:  SiC
Visit:  www.disco.co.jp