11 December 2018
LayTec unveils EpiTT FaceT to boost yield of GaAs-based edge-emitting high-power IR lasers
Precise control of laser facet temperature during facet passivation and coating of stacked GaAs-based laser bars in an MBE chamber is a challenge, notes in-situ metrology tool maker LayTec AG of Berlin, Germany. Until recently, the process temperature of laser facets was estimated only indirectly from the temperature of the heater, although it is a known fact that this method cannot provide the real temperature of the facet surface (see Figure). Consequently, deviations in this temperature signifiantly affect process quality (facet cleaning and facet passivation) and production yield.
As a solution to this problem, LayTec has developed the EpiTT FaceT, a new in-situ spectroscopic metrology tool that can measure the temperature of GaAs laser facets during cleaning and passivation (with an accuracy of ±1K from room temperature up to 400°C) in conjunction with real-time sensing of the zinc selenide (ZnSe) passivation layer thickness (0-50nm).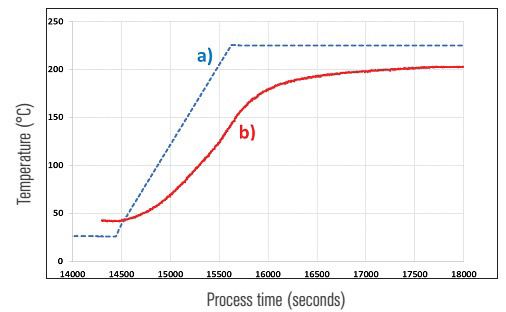 Figure: Temperature during plasma-assisted cleaning of laser facets in a stack of laser bars mounted at a platen in a MBE process chamber: (a) temperature of heater (as formerly used for process temperature control) and (b) true temperature of the laser facets as measured by EpiTT FaceT.
Two EpiTT FaceT systems, capable of monitoring the facet temperature in multi-stack configurations of laser bars at rotating platens in MBE, have already been installed at a customer site this year and a third is scheduled for shipment to a "leading industry customer" in first-quarter 2019.
Visit:  www.laytec.de/VCSEL