20 December 2018
Reedholm launches wide-bandgap HTOL-HTRB reliability test system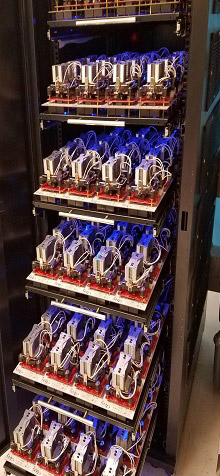 Picture: Reedholm's RS-100 WBG reliability test system.
Reedholm Systems of Georgetown, near Austin, TX, USA (which provides parametric and reliability test systems, including those for high-power wide-bandgap requirements) has launched the RS-100 test system to meet the unique needs and challenges of stress, test and measurement of wide-bandgap devices (WBG). The stress/measurement needs for these devices stretches the limits of conventional parametric measurement tools, says Reedholm. WBG materials challenges and applications are driving divergent needs from those of traditional siliicon, so the firm tailors its measurement instrumentation and long-term reliability stress capabilities specifically for the gallium nitride (GaN), silicon carbide (SiC), GaN-on-Si and other WBG devices and materials.
The RS-100 WBG reliability test system delivers two fundamental capabilities:
First is the capacity to deliver statistically significant sample sizes needed for reliability testing. The base system offers 15 DUT (device under test) per experiment stress condition and up to six simultaneous experiments for a capacity of 90 DUT, with expansions to 270 DUT and 18 simultaneous experiments.
When paired with a fully integrated Reedholm parametric analyzer, it gives the ability to test both to pass AND to learn. Each experiment is independent of the others, and it is straightforward to switch-in parametric instrumentation for periodic user-defined measurements tests and cycles.
A key principal in the design and execution of the systems is the intent for customization to meet stress and test requirements. The challenges of the devices and technologies being analyzed means that there is no single solution for all applications. Therefore the tools are architected to be readily customized for stress and measurement requirements defined by the customer. This is what allows for a single tailored system that can be used for both high-temperature reverse bias (HTRB) and high-temperature operation lifetime (HTOL) reliability requirements, whereby specific stress requirements for each application are factored into the hardware and software.
The RS-100 is available now, with lead times of 4-5 months customized to WBG requirements.
Reedholm collaborates with Texas State University on production test of wide-bandgap devices
Tags:  Wide-bandgap electronics GaN SiC Semiconductor test instrument
Visit:  www.reedholmsystems.com