1 February 2018
Nichia launching Optisolis ultra-high-CRI white LED
© Semiconductor Today Magazine / Juno PublishiPicture: Disco's DAL7440 KABRA laser saw.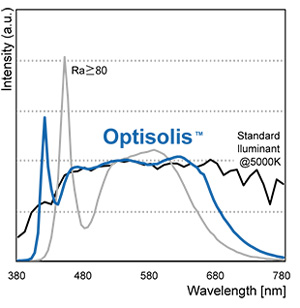 Figure 1. Example spectrum (TS 25°C).
In February, Nichia Corp is launching the Optisolis white LED (first presented at The Phosphor Global Summit in 2016).
Using Nichia's own blue chip and phosphor technology and optimized for the general lighting market, Optisolis has an ultra-high color rendering index (CRI) with a spectrum that is claimed to demonstrate the closest match to that of the standard illuminant (so all colors are reproduced to the color seen under a standard light).
Most importantly, since UV emission is essentially non-existent in the spectrum, the degradation of irradiated materials can be reduced dramatically compared with that of other light sources containing UV emission, including other LEDs on the market, it is claimed.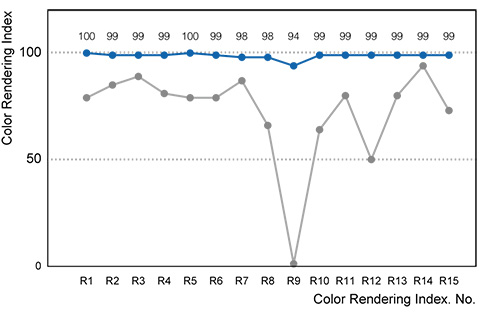 Figure 2. Example CRI (n=1).
Target applications of Optisolis include museum and art gallery lighting, where the highest CRI is preferred but UV radiation and light sources can be detrimental. Additional applications could include color evaluation (e.g. in painting, printing), commercial lighting (e.g. retail etc.) or wherever an ultra-High CRI is desired.
Tags: Nichia
Visit: www.nichia.com